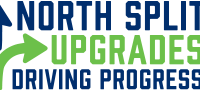 MARION COUNTY, Ind. – The Indiana Department of Transportation (INDOT) reminds motorists the 18-month closure of the North Split Interchange in downtown Indianapolis is only two months away. Major reconstruction is expected to close the interchange on or after May 15, 2021, weather permitting.
During the full closure, I-65 and I-70 between the North Split and Washington Street will be closed to all traffic while bridges and roadways are reconstructed. However, access in and out of downtown will remain via the I-70 westbound exit ramp to Michigan or Ohio streets and the Pine Street entrance ramp to I-70 eastbound. In addition, the I-65 southbound to I-70 eastbound and I-70 westbound to I-65 northbound connections will remain open to traffic during construction. (See below for details.)
Project information can be found at northsplit.com.
In anticipation of the full closure, INDOT developed a virtual project office with interactive construction maps and a 3-D flyover visualization showing how traffic will flow through the North Split when reconstruction is complete at the end of 2022.
Visitors to the virtual project office can view the new 3-D flyover at Station Seven. This video showcases the entire project area and features key changes in each leg of the North Split interchange. The video also highlights design upgrades and shows motorists how the interchange will operate when it opens to traffic following construction.
The updated virtual project office also features a new construction forecast map. This map shows the construction locations and work types occurring throughout the project area. There are three timeframes to view: Active, 10-day and 30-day traffic restrictions, for both local street and interstate closures.
Here is an outline of the interstate impacts and how travel will be maintained throughout construction.
I-70 westbound:
Will be closed to I-70 westbound through traffic and to I-65 southbound
Will remain open at the Keystone/Rural interchange
Will remain open to I-65 northbound
Will remain open to either the Michigan or Ohio Street exits via collector/distributor ramps
Will be accessible from Washington Street entrance ramp
I-70 eastbound:
Will be closed to I-70 eastbound through traffic and to I-65 northbound (from the South Split)
Will be accessible from Pine Street entrance ramp. (There will be detours as the Michigan Street, New York Street and Vermont Street bridges are reconstructed, but the Pine Street entrance ramp onto I-70 eastbound will remain open.)
From the airport, all exits remain open for eastbound traffic up to Washington Street
The West, Illinois and Meridian Street interchanges (south side) can access I-65 southbound and I-65 northbound to Washington Street
I-65 northbound:
Will be closed to I-65 northbound through traffic and to I-70 eastbound (from the South Split)
Will be accessible from the North Illinois Street onramp
Will remain open through the South Split up to the Washington Street exit
I-65 southbound:
Will be closed to I-65 southbound through traffic and to I-70 westbound
Will remain open to I-70 eastbound (except closed for 45 days in Fall 2021)
Will be accessible from the West Street entrance ramp to I-70 eastbound only (except closed for 45 days in Fall 2021)
Will be accessible from the Delaware Street entrance ramp to I-70 eastbound only (except closed for 45 days in Fall 2021)
Will be accessible from the Washington Street entrance ramp
Local streets crossing under the interstate will be closed for overhead construction work (durations vary).

Currently, the Michigan Street exit is closed for reconstruction, while the Ohio and Fletcher Street exits remain open. The Michigan Street exit ramp is expected to be complete and reopen in May 2021, at which time the Ohio Street exit will close for reconstruction.

For up-to-date project information, visit Northsplit.com or text "NORTHSPLIT" to 468311. Follow the North Split project's progress on social media at:

Stay informed
Indiana motorists can monitor road closures, road conditions, and traffic alerts any time throughout the state, here: https://www.in.gov/indot/2420.htm.

For details on the lane restrictions and closures associated with the current work, please visit Traffic Wise and 511 Cars for more information.

About the Indiana Department of Transportation
Over the past 100 years, INDOT has transformed the state of Indiana into the Crossroads of America we know today. With six district offices and 3,500 employees, the agency is responsible for constructing and maintaining more than 29,000 lane miles of highways, more than 5,700 bridges, and supporting 4,500 rail miles and 117 airports across the state. Indiana once again ranked #1 in the U.S. for infrastructure in CNBC's 2019 "America's Top States for Business" ranking. Learn more about INDOT at in.gov/indot.

Tags: