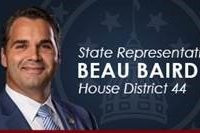 STATEHOUSE (Dec. 10, 2020) – Local communities recently received more than $1.6 million in state matching grants for road and bridge improvements, according to State Rep. Beau Baird (R-Greencastle).
Over 240 Indiana cities, towns and counties received a combined total of more than $101 million through the Community Crossings Matching Grant program, which was created through a 2016 law championed by House Republicans. Grants are made available through the Indiana Department of Transportation.
"Infrastructure maintenance and improvements can often consume a large portion of local budgets," Baird said. "With this partnership, we're able to fund critical repairs and development throughout our area, without communities having to choose between road projects and covering other public services."
Greencastle received $761,186 for local road and bridge projects. In addition, the following communities received matching grants:
Bainbridge $559,815;
Fillmore $130,953; and
Roachdale $224,370.
Baird said this funding can be used for road and bridge preservation, road reconstruction, intersection improvements, guardrail replacements and signage. Smaller municipalities must provide a 25 percent match in local funds, while large communities must provide a 50 percent match.

In total, more than $830 million has been distributed for local road projects through the Community Crossings program. State law requires annually that 50 percent of the available matching funds be awarded to communities within counties with a population of 50,000 or fewer.

More information about the program and recipients can be found online at in.gov/indot/communitycrossings.


-30-

 

State Rep. Beau Baird (R-Greencastle) represents House District 44, which includes

all of Putnam County and portions of Clay, Morgan, Owen and Parke counties.

Tags: