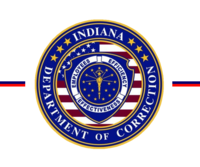 Westville, Ind. – Indiana Correctional Industries, a division of the Indiana Department of Correction, today announced a new partnership with Gold Standard Truss, LLC to provide manufacturing training and work opportunities to offenders at the Westville Correctional Facility.
Indiana Correctional Industries (ICI) is dedicated to providing offenders real-world training programs that develop work ethics, skills and abilities to support successful re-entry. Through its joint venture program, ICI develops partnerships with private sector businesses to manufacture or assemble their products within the walls and fences of the Indiana Department of Correction (IDOC) and perform services specific to each partnership need.
Located in DeMotte, IN, Gold Standard Truss, LLC (GST) manufactures custom designed and engineered wooden roof truss and wall component systems. The Westville Correctional Facility partnership will manufacture products exclusively for projects within the state of Indiana.
IDOC's mission is to "promote public safety by providing meaningful, effective opportunities for successful reentry." IDOC's Hoosier Initiative for Re-Entry (HIRE) program hosts events to develop employment opportunities for ex-offenders. When GST President Bob Kaper, Jr. attended a HIRE event at Westville Correctional Facility (pre-COVID), he immediately agreed to support HIRE. GST hired an ex-offender seven days later.
"We have always believed in second chances for anybody" said Kaper, Jr. "We are blessed to be able to provide skills and work experience now and a job after release."
According to the IDOC, approximately 97% of incarcerated offenders will be released back into their communities; with 36% returning to prison after three years.  "ICI is committed to offering offenders the best possible chance of successful reentry" said ICI Chief Operations Officer Lloyd Arnold. "The more skills, experience and jobs we can provide, the better life will be for ex-offenders, their families and our communities."

"We are excited to work with GST," said Westville Correctional Facility Warden John Galipeau. "Having the opportunity to develop a work ethic and gain experience can be life-changing for anybody; especially those who are presently incarcerated and want to learn skills in preparation for their future release and to secure meaningful employment."

Visit this link for video and photographs of the manufacturing building and equipment recently installed on the grounds of the Westville Correctional Facility.

Picture 1: Finish Roller – rolls over the truss joints to press the truss plates into the wood at each joint location on a roof truss.

Picture 2: Wall Panel Framing Table – Wall panels are built on this table. Top and bottom plate of a wall panel are placed on each end of table. Wood studs are inserted at the proper location and the studs are nailed to the bottom and top plate of the panel.

###

Tags: