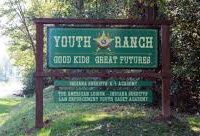 BRAZIL, IND. (Oct. 21, 2020) – Safety is a guiding principle of the new Indiana Sheriffs' Youth Ranch for future law enforcement officers, at-risk kids, young witnesses and victims of crime.
So, the board of sheriffs who lead the statewide not-for-profit has decided to continue safely, socially distancing students attending weekend retreats at the West Central Indiana camp until a Covid-19 vaccine is widely available.
Earlier this month, ISYR invited the first 10 of 200 at-risk kids expected to visit the 62-acre academy this fall, next spring and summer. After the pandemic, ISYR will host weeklong academies for up to 100 Indiana teens selected by local law enforcement and school officials.
"Mentoring future law enforcement officers, bonding with at risk kids, and comforting young witnesses of crime are our missions," said La Porte County Sheriff John Boyd, an ISYR trustee. "We've decided if we can host Indiana youth safely, we want to make certain we do not miss the opportunity to reach a grade level of young leaders because of Covid-19."
Ripley County Sheriff and ISYR Trustee Jeff Cumberworth agreed. "Our Indiana students are only young once. Sheriffs and deputies want to make certain we do all we can to help parents and grandparents raise better kids with safer futures."
While awaiting an effective vaccine, the Youth Ranch will continue hosting weekend retreats of smaller groups of students, said Boone County Sheriff Mike Nielsen, another ISYR trustee. "Most of our programming and activities are always outdoors, which helps keep the student leaders and adult instructors safer from the coronavirus."
| | | |
| --- | --- | --- |
| La Porte County Sheriff John Boyd | Ripley County Sheriff Jeff Cumberworth | Boone County Sheriff Mike Nielsen |
Boyd, Cumberworth and Nielsen all emphasized group and one-on-one talks about personal safety and responsibility can be conducted effectively around campfires and on lake docks. Important lessons can be learned and serious topic can be discussed while the teens are playing basketball, throwing cornhole, fishing, shooting archery, hiking, learning drone use, safely riding ATVs and other recreation, they said.

Temperatures will continue to be taken, masks will be worn, hand sanitizer will be used and ISYR visitors will be socially distanced to give everyone peace-of-mind, Boyd said.

Cumberworth said parents and donors can find comfort in knowing the Youth Ranch will continue in a "safe mode" of operation while a Covid-19 vaccine is developed and made available. "The safety and security of our Youth Ranch visitors has been and will always be our priorities."

To make a tax-deductible donation or receive more information about the Youth Ranch, Nielsen said to call 317-460-4242, email 

ScottMinier@yahoo.com

 or write the Indiana Sheriffs' Youth Ranch, 5325 N. State Road 59, Brazil, IN 47834.

Boyd, Cumberworth and Nielsen volunteer on a 10-sheriff board who sets policies, raises funds and heightens awareness for the statewide Youth Ranch. Former Marion County Sheriff John Layton is the founder and current president of ISYR. Clark County Sheriff Jamey Noel and Putnam County Sheriff Scott Stockton serve as vice presidents. Grant County Sheriff Reggie Nevels is secretary; Allen County Sheriff David Gladieux is treasurer. Other Youth Ranch trustees include Bartholomew County Sheriff Matt Myers and Clay County Sheriff Paul Harden.

Indiana Sheriffs' Youth Ranch

5325 N. State Road 59 Brazil, IN 47834

Tags: