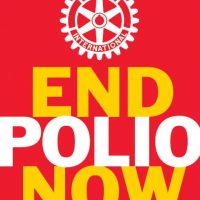 On October 19, 2020, Mayor Bill Dory proclaimed October 24, 2020 as Polio Day for the City of Greencastle. He is invitees all citizens to join him in the fight for a polio-free world.
The Greencastle Rotary is part of a global network of neighbors, friends, leaders, and problem-solvers who take action in creating lasting changes to communities around the world. Service Above Self is the motto the Rotary follows and uses to inspire humanitarian service and promote peace.
In 1985, the Rotary launched PolioPlus to bring attention to and aid in the efforts of eradicating polio, a debilitating disease. By 1988, they helped establish the Global Polio Eradication Initiative, which is now comprised of the World Health Organization (WHO), U.S. Centers for Disease Control and Prevention (CDC), UNICEF, Gavi the Vaccine Alliance, and the Bill and Melinda Gates Foundation. The Greencastle Rotary has made annual contributions to PolioPlus since 1988.
Since 1988, polio cases have dropped by 99.9 percent. To date, the Rotary has contributed more than $2.1 billion to the eradication of polio. More than 2.5 billion children in more 122 countries have been protected from polio and its devastating effects. The Rotary is working to raise an additional $50 million per year, which would be used to provide much needed operational support, medical staff, laboratory equipment, and educational materials.
According to the Rotary International, polio is close to being eradicated and these funds will help bring an end to the painful disease.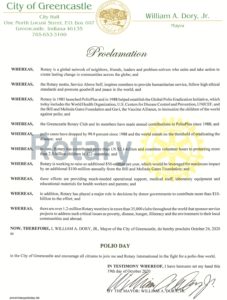 Tags: