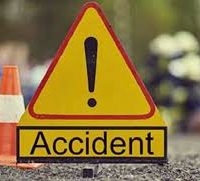 Lebanon, IN [October 15, 2020]– This afternoon at 12:24 emergency responders were called to the scene of a serious crash along I-65 southbound at the 141 mile marker, near Lebanon. Callers were reporting a vehicle had collided with a semi and possibly rolled over in the median. When emergency crews arrived they found two victims inside a red passenger vehicle, the vehicle was heavily damaged. Both occupants were severely injured in the crash and subsequently transported to an area hospital by ambulance.
The Boone County Fatal Alcohol Crash Team (FACT) responded to the scene to assist with the investigation. This team typically responds to serious and/or fatal crashes in Boone County. Preliminary investigation determined the passenger vehicle was northbound on I-65 when the driver changed lanes and clipped the front of a northbound semi-tractor trailer. After that collision, the passenger vehicle spun through the median and struck a southbound semi-tractor trailer head on. A third collision occurred when a second southbound semi-tractor trailer struck the passenger vehicle as it came to rest. One of the semis left the road to the right side. None of the semi drivers were injured in the crash. Both occupants of the passenger vehicle were wearing seatbelts.
Both the northbound and southbound lanes of I-65 were restricted or closed until approximately 6:30 p.m. The investigation into the circumstances of this crash are ongoing and there is no further information to release.
The Indiana State Police was assisted by the Boone County Sheriff's Office, the Lebanon Police Department, the Lebanon Fire Department and INDOT.
Tags: