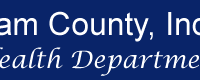 (Greencastle, Ind.) Putnam County officials announced today that there have been confirmed 568 cases of COVID-19 in the county since March. Putnam County is currently at a 6.6% positivity rate. For a further breakdown of cases please visit www.coronavirus.in.gov. The positive case number also may include positive cases at the state correctional facility located in Putnam County. To learn more, visit https://www.in.gov/idoc/3780.htm.
Governor Holcomb announced on Wednesday that Indiana will be moving to Stage 5 in Indiana's Back on Track Plan on Saturday, September 26. What does moving into stage 5 look like for Indiana?
Capacity limitations removed for restaurants, bars, nightclubs, and other indoor/outdoor venues that had continued to be restricted in Stage 4.5.

However, social distancing should still be maintained.

Masks will continue to be required where social distancing cannot be achieved because they are proving to lower the spread and have helped Indiana achieve a very low transmission rate and test positivity rate. \
More focus will be on County-by-County data and the color-coded map that was introduced a few weeks ago at coronavirus.in.gov .

Counties can continue to implement actions that are more strict than the state, but not less.

Events anticipated to be larger than 500 people will need to submit a plan to be approved by the local health department.
Putnam County 360 Coalition COVID-19 update
Do you, or someone you know, need help or support and don't know where to turn? Do you feel isolated and don't know who to contact to ask questions? The Putnam County 360 Coalition has developed this resource to help. Members of the 360 Coalition will help you or direct you to appropriate resources as best as we can to provide the support you need. REMEMBER: If this is an emergency, please call 911 for assistance.

The Putnam County 360 Coalition is a coalition of not-for-profit service providers, faith-based institutions, educational providers, city and county government, and the Putnam County business community. The goal is to provide pathways for all residents that lead to positive outcomes, including housing stability, education, health and wellbeing, economic security and mobility through collaboration, information sharing, and shared case-client management. All work we do is confidential. The help form can be found by going to https://putnamcounty360.org/request-help.

Putnam County Hospital continues to offer curbside COVID testing. To schedule your appointment please go to https://scheduling.coronavirus.in.gov.  Testing hours are Tuesday-Friday 10:00am-6:00pm and Saturday 9:00am-2:00pm. If you have any further questions please call the COVID hotline at (765) 301-7019. Putnam County Hospital asks that patients arrive no earlier than five minutes before their scheduled test to help with the flow of traffic. When a patient arrives they will follow the COVID-19 testing signs. These signs will direct them to the proper testing area.

As a reminder, Putnam County Hospital will be holding flu shot clinics in the coming weeks. The flu clinics will be a drive thru flu clinic at Putnam Pediatrics and Internal Medicine, Family Medicine of Cloverdale, and North Putnam Family Healthcare. The clinics will be held on October 3, October 9 and October 24 for anyone wishing to receive the flu shot. On September 19, these locations will be offering the high dose flu vaccination for those that are immune compromised and/or senior citizens. These vaccinations are by appointment only. To schedule your appointment please call:

Putnam Pediatrics and Internal Medicine 765.301.7400
Family Medicine of Cloverdale 765.795.4242
North Putnam Family Healthcare 765.301.7679

Dr. Ceciley Casselman of North Putnam Family Healthcare would like to remind the community on the importance of the vaccine. "Vaccines are the best studied medicine ever developed. They have prevented more deaths than all the antibiotics in the world. I am more comfortable recommending immunizations than any other medication because the amount of research in and widespread use of vaccines bears evidence to them being incredibly safe. No other medicine has been used on such a large number and wide range of people over decades giving us a great amount of data and proving their safety and efficacy. Vaccines are continually monitored and like any medication, they can have side effects, but side effects are mostly minor and more severe side effects are very rare–much more rare than the risk of contracting the diseases that they prevent which can cause suffering at best and be deadly at worst. Last year's flu season, there were 39-56 million illness and 24,000-62,000 deaths. It was the worst flu season for children in a decade. The flu makes you miserable. It causes us to miss work and school. It can be deadly."

Dr. Casselman went on to say "This year, with the ongoing COVID-19 pandemic, it is more important than ever to get your flu shot! With the overlapping symptoms between the 2 viruses, we want to cut as much confusion as possible by decreasing risk of falling ill with influenza and keeping our clinics and the hospital as free of illness as possible! That being said, if you develop symptoms, it is important to be evaluated. It is true that many people still contract influenza despite getting the flu shot, but it oftentimes does prevent the flu and any decreased risk of contracting it helps! Also, even if you get the flu, vaccinated patients have lower risk of having severe disease. Studies have shown less ICU admissions, shorter hospital stays, and lower risk of death in patients that got the flu and were vaccinated versus those that were not."

Dr. Casselman ended by saying, "Get your flu vaccine before the end of October, which is when flu season starts to pick up; immunity lasts about 6 months."

Cloverdale Drugs and Crossroads Care Pharmacies is also providing flu shots at both locations with no appointment necessary. Please call either location for further details.

For more information on the importance of getting the flu vaccine please visit https://www.youtube.com/watch?v=ahzJZ0hE2IQ&feature=youtu.be.

What else can I do right now?

Wear a mask.
Use the #MaskUpHoosiers hashtag or icon to let your followers know you mean business about face coverings. There is a whole web page of resources to help you. Show how easy it can be—when you wear it the right way—to fight coronavirus with a face mask.

Stay away from crowds.
Social distancing works. For those back in the office, share pictures of how you have configured space to stay six feet apart. Remind people that—as hard as it is—events that limit attendance are designed to keep us all healthy.

If you do get sick, cooperate with contact tracing.
To date, the state has confirmed 3,300 cases through contact tracing. We encourage community members to answer calls from the contact tracers and respond to their messages. Answering your phone can help save a life.

Putnam County is providing regular updates on COVID-19 to citizens as part of its effort to complement the daily updates from the Indiana State Dept. of Health. The updates can be accessed via www.coronavirus.in.gov. To learn more about Putnam County's coordinated response to COVID-19, please visit the Putnam County Hospital at www.pchosp.org/covid-19-updates or the Putnam County Health Department at www.putnamhealthindiana.org.

-30-

Tags: