Indiana Conservation Officer Jarred Coffing has been named the 2020 Operation Dry Water Officer of the Year by the National Association of State Boating Law Administrators (NASBLA). Coffing serves District 3, which includes Benton, Boone, Cass, Caroll, Clinton, Fountain, Montgomery, Tippecanoe, Warren, and White counties.
Operation Dry Water (ODW) is a year-round boating under the influence awareness and enforcement campaign. The mission of ODW is to reduce the number of alcohol- and drug-related accidents and fatalities through increased recreational boater awareness and by fostering a stronger and more visible deterrent to alcohol use on the water.
Operation Dry Water's heightened awareness and enforcement three-day weekend takes place annually around Independence Day, a holiday unfortunately known for drinking and boating, which can cause deadly accidents.
The 2020 Operation Dry Water Officer of the Year Award is open to all commissioned, certified or sworn peace officers from across the country authorized to enforce state and/or federal recreational boating safety laws. In 2019, 7,696 officers from 736 agencies participated in ODW nationwide.
The award recognizes the top officer making a difference in recreational boating safety by educating boaters, raising awareness about the dangers of boating under the influence, and removing impaired operators from the nation's waterways. The Officer of the Year will be invited to the NASBLA Annual Conference and will be recognized in person at the NASBLA Awards Banquet.
During this year's campaigns heightened awareness and enforcement weekend Coffing contacted 74 boats and more than 150 boaters. The majority of these contacts were calls of service, assisting stranded boaters, and responding to complaints and visible boating violations. Coffing also cited seven boaters for minor consumption/possession of alcohol and arrested five boaters for boating under the influence.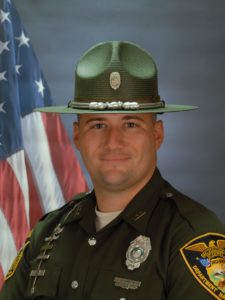 Tags: