Today starts the 8th annual National Forensic Science Week. Forensic Science plays an important role in investigating criminal activities and it's not as easy as it seems to be in your favorite procedural show. Forensic scientists must be highly perceptive and detail-oriented and they must be able to spend extended periods of time conducting meticulous, often painstaking, work.
In 2013, forensic leaders conceptualized a way to recognize the important role that proper forensic science plays in the investigation of crimes throughout the nation. Soon after, formal support was offered by the MCC, IACP, ASCIA, MCSA, and the full panel of organizations that compose the CFSO. National Forensic Science Week brings recognition to the role that proper forensic science plays in the investigation of crimes throughout the nation, from exonerating the innocent to identifying the guilty.
On September 4, 2020, Governor Eric J. Holcomb officially recognized National Forensic Week for the state of Indiana to give recognition to our own forensic teams. There are four Indiana State Police laboratory facilities statewide which provide scientific analysis, evidence collection, and security. According the Indiana State Police Laboratory Division, http://www.in.gov/isp/labs, "The Division prides itself in providing the highest level of service and demonstrates its commitment to quality and efficiency by continued compliance with required accreditation standards of the ANSI National Accreditation Board (ANAB)."
The facilities are located in Evansville, Fort Wayne, Indianapolis, and Lowell. In 2019, there were 24,517 new cases submitted for analysis at the four Indiana State Police laboratories and Crime Scene Investigators responded to 1,263 different crime scenes throughout the state. Polygraph Examiners conducted 770 polygraph tests. Also in 2019, 958 cases in Indiana were linked to a potential suspect by a CODIS (Combined DNA Index System) DNA match.
On average, Indiana CSIs process approximately 1500 crime scenes per year, including anything from burglaries to murder. There are currently over 170 forensic scientist employed in Indiana, with many of them serving on national boards for forensic science.
If you would like to learn more about National Forensic Week, visit: http://www.forensicscienceweek.org. To learn more about Indiana State Police Laboratory Division, visit: https://www.in.gov/isp/labs/2398.htm.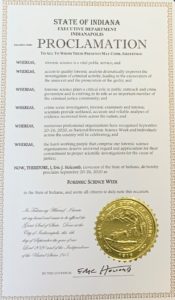 Tags: