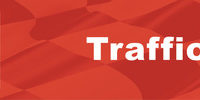 Changing traffic access on Egbert Road east of S.R. 37
MORGAN COUNTY, Ind. (Sept. 18, 2020) – Watch for intermittent daytime traffic stoppages on State Road 37 next week as large concrete beams are delivered for two new bridges that are part of I-69 Finish Line.

S.R. 37 traffic should slow down and be prepared for daytime traffic stoppages of up to 20 minutes each. Both directions of S.R. 37 will be stopped at two locations:
Large beams are scheduled to be backed one by one through the S.R. 37 intersection at New Harmony Road Monday through Wednesday.
Staging and lifting of bridge beams at Indian Creek south of S.R. 39 in Martinsville will require multiple daytime traffic stoppages on Wednesday and Thursday.
Crews are also deploying signs and orange barrels along S.R. 37 from Morgan Street in Martinsville to S.R. 144. Paving and resurfacing in the S.R. 37 median and northbound shoulder is expected to begin as soon as next week and will result in a single lane closure that could extend for up to four miles.
A concrete bridge deck pour over the highway is expected to close single lanes on S.R. 37 near Egbert Road starting early Wednesday morning.
Because of the increased construction activity and changing traffic conditions, police are enforcing a reduced speed limit of 45 MPH for the safety of both motorists and highway workers.
Egbert Road east of S.R. 37

Drivers should watch for traffic changes on Egbert Road east of S.R. 37. Temporary access between S.R. 37 and Egbert Road is being maintained for local traffic only.

Access to nearby homes is expected to change on Saturday. Residents will use the new Willowbrook Drive connection to Egbert Road.

About I-69 Finish Line

I-69 Finish Line is the sixth and final section of the Interstate 69 connection between Evansville and Indianapolis. The project will upgrade the existing S.R. 37 to interstate standards between Martinsville and Indianapolis.

Governor Eric Holcomb's Next Level Connections program fully funded the project and accelerated construction by three years. I-69 Finish Line is expected to open to traffic in late 2024, improving safety and reducing travel time.

About the Indiana Hands-Free Law
In 2019, Indiana Criminal Justice Institute reported that distracted driving from mobile devices was a factor in at least 1,263 crashes and three fatal crashes. To make Hoosier roads safer, Governor Eric J. Holcomb signed the Indiana Hands-Free law to reduce distracted driving across the state. Beginning July 1, 2020, drivers are prohibited from holding a mobile device, except in emergencies, while their vehicles are moving. For more information on the new law visit www.HandsFreeIndiana.com. Hands-Free Indiana is a partnership between the Indiana Department of Transportation, Indiana State Police, Indiana Criminal Justice Institute, Indiana Bureau of Motor Vehicles, Indiana Constructors Inc., Indiana Motor Truck Association and ACEC Indiana.

Tags: