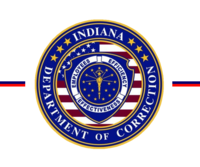 Michigan City, Ind. – Earlier this month Indiana State Prison Warden Ron Neal  promoted Adrianne Ball and Dennis Koen to the rank of Correctional Lieutenant. Additionally, Latrice Jones and Larry Haskell were promoted to the rank of Correctional Sergeant.
"These promotions are the result of hard work and dedication exemplified by each of these staff members." said Warden Neal. "I'm confident they will be a great addition to the state prison supervisory team and I look forward to working with them as their careers continue to move forward."
Lt. Adrianne Ball started with the Indiana Department of Correction (IDOC) on December 18, 2003 as a Correctional Officer. She has served as the K-9 Commander and has been a handler with K-9 for fourteen years. Lt. Ball has completed the IDOC Supervisory Course and is a member of the Emergency Hazmat Tactical Team for IDOC.
Lt. Dennis Koen began with the Indiana Department of Correction on October 31, 2014. He is currently the E-Squad Commander for ISP and is well respected among his peers and Supervisors alike. Lt. Koen is also a Quick Response Team Instructor and a Field Training Officer.
Sgt. Latrice Jones began her career on October 6, 2014. She is a member of the Quick Response Team that responds when needed to emergency situations. Latrice also serves as a Field Training Officer to help new correctional officers put to practical use the training received at the Correctional Training Institute.
Sgt. Larry Haskell began with the Indiana Department of Correction on July 23, 2018. Larry is also a member of the state prison Quick Response Team.

###

Tags: