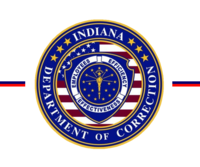 Indianapolis, Ind. – Offenders at the Indiana Women's Prison took a unique approach to the #INThisTogether social media campaign  to demonstrate a common goal among staff and offenders.
Offenders and staff are actively volunteering and working to complete additional sanitation, adhering to social distancing guidelines and the proper wearing of personal protection equipment (PPE).
In addition to these efforts staff have been greeted with a unique approach towards #INthistogether from the offender populations and programs they serve. Staff are receiving unexpected encouragement, appreciation, and positive feedback. Several offenders have created positivity walls, made signs and notes for staff, and have written thank you letters detailing the efforts they have observed from staff during this time. Offender Hannah Stone, a graduate of the PLUS unit and current ICAN unit handler stated: "The positive side of IDOC is often not seen by the general public and only by those directly involved. We want staff to know we see the positive things they do and we are also here to help during this time." Stone continued, "We are truly in this together and find comfort from the staff who keep us informed and listen to us, and we want the staff to know we appreciate their efforts".
Warden Johnson said, "We are proud of our staff and offenders working together; this is what the Women's Prison is all about."
Pictured: Top Left Photo: Lt. Simmons and Sgt. Rmailia, Bottom Left Photo: Sgt. Lewis, Right Upper Photo:Ofc. Breeden and Ofc.Hobson, Right Bottom Photo: Casework Manager Vogel

Tags: