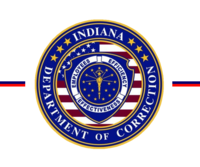 Branchville, Ind. – This past week Branchville Correctional Facility Warden Kathy Alvey received an Extraordinary Leader Award.  The award was presented on behalf of Dept. of Correction Commissioner Rob Carter by the IDOC Director of Staff Development and Training, Nancy Riley.  The award, along with a Commissioner's Challenge Coin, was presented in recognition of Warden Alvey's dedicated service over the course of the COVID 19 Pandemic.
When presenting the award it was noted exceptional leaders share the character points of Will, Fortitude, and Self-efficacy, as defined here:
Will – The ability to rally people around them and to lead people towards new heights when required.
Fortitude – Leaders that endured difficult challenges and came out ahead.  It isn't just brains or talent that propels people to the top.  It's strength of character and endurance, the essential ingredients of fortitude.
Self-efficacy – They know their boundaries of competence and masterfully exploit them.  By doing so, they accomplish more than anyone expects of them and motivate others to do the same.
Nancy Riley commented, "Warden Alvey, all three of these special traits describe how you have handled yourself, not only during the pandemic, but during your entire career with the department.  You have been a great leader, mentor, and friend to all staff in the department." Riley concluded, "So on behalf of Commissioner Carter, I present to you the Extraordinary Leadership Award, along with the Commissioner Coin."

About Warden Alvey:

Warden Kathy Alvey began her 28 year career in uniform in November 1992. Over her IDOC career she has worked in custody, recreation, and Unit Team before transitioning into an administrative role and later promoted to the warden position in October of 2014.  Warden Alvey's ability to motivate and lead comes from many years of experience and superior training throughout her career. She cares for her staff, celebrates their accomplishments and counsels them when required.

Extraordinary Leader: Warden Kathy Alvey BCF

Tags: