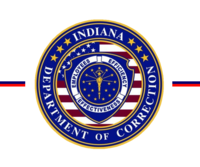 Greencastle, Ind. – Putnamville Correctional Facility (ISF) staff have been provided free meals for their hard work and dedication to the facility. One week in May would typically be set aside for the Indiana Department of Correction (IDOC) to celebrate its staff. However, due to the pandemic, the celebration of their continuous hard work and dedication has been postponed. Deputy Wardens of ISF Timmy Phegley and Keith Hartzell along with the Employee Recognition Committee (ERC) did not want the staff to go without receiving appreciation for everything they do day in and day out.
Within the last 30 days ERC geared up to serve two day shifts and two night shifts free lunches on three separate occasions. With a total over 450 staff to serve this was no light task. Volunteers consisted of Case Workers, Case Managers and Unit Team Management. "I am thankful for all the staff that have taken part in assisting the ERC with the free meals," stated Deputy Warden Phegley "We are all in this together and every staff member has played a critical role in preventing COVID-19 from spreading and assisting each other with daily task."
As an appreciation for all they do each staff member received a grilled cheese sandwich and their choice of chicken noodle soup or homemade stuffed pepper soup. A few weeks later another all staff appreciation meal consisted of coney dogs with all the works, and another free meal which consisted of spaghetti and garlic bread. Deputy Warden Hartzell stated, "We are so proud of the diligence our staff has shown during the COVID-19 pandemic, and this is a way we can show appreciation for them, and applaud the way they have continued to serve to IDOC, ISF and the local community."  ISF administration is already planning the next way to show appreciation to staff by scheduling a root beer float day.
---
Staff at Putnamville Correctional Facility serving food to their co-workers

Tags: