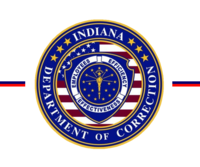 Bunker Hill, Ind. –Miami Correctional Facility (MCF) Warden Bill Hyatte recognizes staff with Annual Performance Awards.
Every year during National Correctional Professional Appreciation Week (this year May 3-9, 2020) staff in the Indiana Department of Correction (IDOC) are recognized for outstanding work performance. The Warden of each facility awards Supervisor of the Year, Employee of the Year, Correctional Officer of the Year and Contract Employee of the Year. These awards go to team member who have performed above and beyond what was required.
Warden Bill Hyatte commented, "I look forward every year to recognizing staff for their accomplishments. While we face many great challenges, especially this year, the staff continue to rise to the occasion. They are well deserving of the recognition they have received. I think all the award recipients would say none of this would be possible without an outstanding team behind them. As I often say, 'One Team, One Goal'."
Casie Klepinger was awarded the Supervisor of the Year Award. Ms. Klepinger is the Assistant Lead Investigator in MCF's Division of Investigations and Intelligence (D.I.I.). She began her career with the IDOC in 2007 at MCF in the Classification Department before transitioning to D.I.I. in 2008. She recently took on additional responsibilities during a staff absence, due to a family emergency.
Lead Investigator Lorna Harbaugh commented, "Ms. Klepinger stepped into my position as Department Head while I was gone. She continued to complete her own duties as well as maintain the operations of D.I.I. Casie is dedicated, takes ownership of her position, and a great team member."
George Rentschler was awarded the Employee of the Year Award. Mr. Rentschler began his career at MCF in December 2014 as a Correctional Officer. He transitioned to Caseworker in December 2018. In that time, Mr. Rentschler has demonstrated an outstanding ability to perform as a team member. He always places the goals of the department first. Mr. Rentschler constantly goes the extra mile to accomplish any duties assigned to him with a positive attitude.
Deputy Warden Sharon Hawk noted, "Mr. Rentschler's hard work and dedication is outstanding. He has a great team spirit and is always working to improve our work environment. Mr. Rentschler continually sets a great example for all staff, this award is well deserved."
Correctional Officer Richard Jones earned the Correctional Officer of the Year Award. He began his career in December of 2006 and has worked many positions at MCF and is currently the Warehouse Officer. As the Warehouse Officer he is the first line of defense, identifying contraband entering the facility through warehouse shipments. His attention to detail has stop numerous illegal and unauthorized items from enter the secured perimeter of the facility. His sixth sense, developed from experience, has served MCF well.
Deputy Warden George Payne Jr. commented, "Officer Jones is a great officer, he takes ownership of his position, he is very conscious of his surroundings and always willing to step-up. He works well on his own with minimal supervision needed. These are all traits we like to see in all staff."
Wexford Administrator Lee Ann Ivers was awarded the Contract Employee of the Year Award. Ms. Ivers began her career in corrections as a Registered Nurse in 2005. While working in this position, she established a seamless working relationship between her department and others. She has used great communication skills and knowledge to accomplish this. Speaking about her award Ms. Ivers said, "This award is not just a reflection of my work but the work of the entire Medical Department. I'm grateful to everyone

Deputy Warden Sharon Hawk commented, "Ms. Ivers is a wonderful communicator and facilitates a great working experience between the Department of Correction and our medical provider Wexford. It was a pleasure to see her receive this recognition."

Tags: