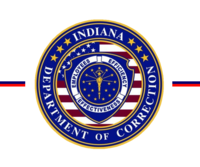 Madison, Ind. – Director of Nursing, Mary Kring received the Courage Award at the Madison Correctional Facility.
What is a Courage Award?  The Courage Award recognizes staff members that show true leadership while making bold decisions and offering ground-breaking ideas and/or solutions.  Courage is contagious and fosters trust in your team.  Mary Kring exemplifies this definition.
Warden Jan Davis stated, "Mary has been proactive from the beginning; taking her own time to compile statistics and information from the CDC to implement necessary changes at the facility.  She is a true asset to our team at MCU."
Starla Toomey, Health Service Administrator, stated, "Mary has spent countless hours educating and preparing our facility for the COVID-19 pandemic. She has taken the lead through all of this, and has dedicated herself to ensuring that all of our staff and offenders are safe in this difficult time. She shows an amazing ability to think outside of the box and ahead of the curve, and I consider us truly lucky to have her as part of our team."
Mary attended Galen College of Nursing, graduating with her LPN degree in 2009 and RN degree in 2012.  She received a BSN from the University of Louisville in 2015 with a concentration in Public Health and System's Management.  She is currently working on her MSN from IUPUI for Nursing Education.  She is also currently facilitating nursing clinicals for IUPUC's School of Nursing students and their new Community Health Advocate program.  Mary has been at Madison Correctional Facility for over eight years.
Mary stated, "Warden Davis, Deputy Warden Phelps, HSA Toomey and everyone else working with us on this have been fantastic partners. I am so thankful for staff that trust us with their ideas and concerns.  They have been a great inspiration through all of this. Truly, I could not work with a better group or at a better facility."
Tags: