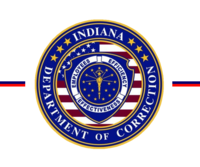 Indianapolis, Ind.– Program staff and offender volunteers aide in ensuring all staff and offenders have personal protection equipment needed by making masks. Program Director Mary Saegesser kicked off the project with community outreach staff Luz McNally, Community Involvement Coordinator Lyndsey Lane, and offender volunteers on April 6th, 2020.
In one week the team helped to provide all Indiana Women's Prison offenders with a washable mask and began to work on putting together mask kits donated by Indiana Filter Supply. The donation of up to 1000 mask kits was coordinated by Program Director Treddia Crouch. Ms.Crouch oversees the Purposeful Living Units Serve (PLUS) program at IWP and received the lead from a dedicated PLUS volunteer.
As of May 6, 2020, a total of 2,500 masks have been completed. Community outreach has significantly assisted in providing all Indiana Women's Prison offenders and staff with masks to reduce the Indiana Department of Correction impact on much needed PPE supply, reducing the spread of the Covid-19 virus. All staff are required to wear a mask to enter the facility grounds and all offenders are required to wear a mask when leaving their assigned rooms.
Approximately 1,500  of the sewn masks were donated to places such as:
– Community North Hospital
– Methodist Hospital
– Johnson County Senior Services
– Little Feet Daycare
– Hancock Regional Hospital
– MHP Major Hospital
For the most current information on IDOC Offenders and Staff COVID-19 virus statistics, click https://www.in.gov/idoc/3780.htm and then click as indicated on the ORANGE banner at the bottom of the web page.
Tags: