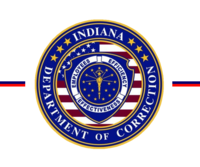 Greencastle, Ind.— Putnamville Correctional Facility (ISF) along with Warden Brian Smith and Deputy Warden Timmy Phegley is pleased to announce the promotions of Russell Archer and Alexander King to correctional caseworker.
Russell Archer started with the Indiana Department of Correction in January of 2002. Over the past 18 years, Archer moved up to the rank of Correctional Sergeant. For over ten years he has been an instrumental member of the K9 team serving as a handler, then promoted up the ranks to field commander for ISF K9 team. In the last few years Archer has served as a Field Training Officer and Street Sergeant.
Alexander King started with the Indiana Department of Correction on April, 2019 as a correctional officer. Ms. King was promoted to correctional caseworker on September, 2019 with Plainfield Correctional Facility and transferred back to ISF May of 2020. Ms. King as an Associates Degree in Criminal Justice from Ivy Tech Community College.
"I am proud to see Caseworkers Archer and King join Unit Team and continue their growth within the Indiana Department of Correction," stated Warden Brian Smith of Putnamville Correctional Facility. "These two staff members have a lot of potential to do great things with the Department."
Deputy Warden Phegley stated, "These two individuals will continue to be an asset to the Indiana Department of Corrections and their fellow staff. We have high expectations out of these two individuals and look forward to seeing their professional growth"
Looking for a new career?  We are hiring now! 
Links to More Information on IDOC Career Opportunities
Click This for All IDOC Career Opportunity and Benefit Information
Click this to Visit the IDOC Facebook Recruiting Page
Have questions before or after the Virtual Career Fair?  Call or email Recruitment and Retention Coordinator Carlos Williams during regular business hours: 765-524-7743, email 

CarlWilliams@idoc.in.gov

.
Tags: