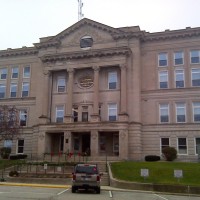 PRIMARY ELECTION IS JUNE 2, 2020
(Greencastle, Ind.) Putnam County Clerk Heather Gilbert announced on Tuesday, May 5, 2020 the various ways citizens can vote in the Indiana Primary Election on June 2, 2020.
Citizens can vote by mail, early at the Putnam County Courthouse and in person at one of three vote centers on ElectionDay:

Voting early at the Putnam County Early voting will be available at the PutnamCountyCourthouseduringthefollowingdatesandtimes.
May 26, 27,28,29                 8 a.m. – 4 p.m.
May30                                    8 a.m. – 4 p.m.
June1                                     8 a.m. –Noon
Voting in person on Primary Election Three Vote Centers will be open on June 2, from 6 a.m. – 6p.m.
The locations are:

Putnam County Courthouse

Cloverdale American Legion

Bainbridge Town Hall

The State of Indiana will provide masks, gloves, hand sanitizers, and cleaning supplies to the Vote Centers to make them as safe as possible.

"Our team at the Clerk's Office and the Election Board, along with our dedicated volunteers,  are committed to ensuring that Putnam County residents have the opportunity to vote on June 2," said Clerk Heather Gilbert. "It'simportant citizens can vote despite the pandemic and we hope they evaluate their personal circumstances before the Primary Election, and chose the option that works best forthem."

If you have questions about how you can vote on June 2, please contact Voter Registration at 765-655-1538 or email voterregistration.putnam@airhop.com. Please note that the Courthouse is currently operating on a limited schedule while stay-at-home orders are in effect. Please call the Clerk's office at 765-653-2648 before visiting the Courthouse.

Tags: