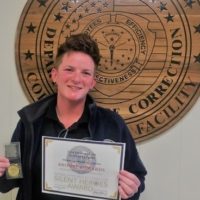 The COVID-19 pandemic has created new obstacles within IDOC to overcome, including the need for protective face masks to be sewn for offenders and staff at Putnamville Correctional Facility.
During this past week, Caseworker Brooke Edwards received the "Silent Hero" award from Commissioner Rob Carter, as well as a Commissioner's Coin. What defines someone as being a Silent Hero? They are the quiet workhorses who don't complain, but who rarely appear in the spotlight. These teammates often get overlooked because they care more about their work than their ego.
Some people work without seeking benefits. "Brooke Edwards happily took charge of this huge project, and she has done a wonderful job," stated Deputy Warden of Putnamville Correctional Facility Keith Hartzell. "Ms. Edwards secured material, equipment and donations from staff used to create the masks. Realizing the importance of the project and in an effort to complete it as quickly as possible, she has come in early, putting in several hours daily over the past weeks to work on the project. Brooke Edwards has shown relentless dedication to the facility and its mission, and has been a positive role model to her peers. Her go-getter personality has directly and positively benefited the staff, offenders, and facility as a whole. Thank you for your service, Brooke".