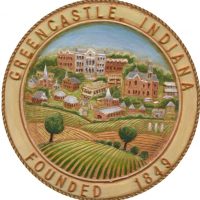 The City of Greencastle announced today that 65 percent of residents have completed their census forms. Fifty-three percent of Putnam County residents have completed the Census, ranking 67th among the state's 92 counties.
Return rates for other communities can be found at 2020 Census.
"Local projects, like street and road improvements, or even the recent grants related to COVID-19 are based on Census data," said Mayor Bill Dory. "During this time while we are staying at home, I encourage people to take a few minutes and complete the Census so we can be fully counted."
There are several ways to complete the Census:
Online, at 2020census.
By phone, at 1-844-330-2020
Through the US Mail, by completing and mailing the Census form
About the US Census
What questions are on the Census?
The 2020 Census will ask:
How many people are living or staying in your home on April 1, 2020
Whether the home is owned or rented
Each person's sex
Each person's age
Each person's race
Whether each person is of Hispanic, Latino, or Spanish origin
The relationship of each person to the householder
How will the Census affect me?
In March 2020, all residential addresses received an invitation in the mail to participate
in the 2020 Census. The online Census form will be available in 12 languages other than
English, and language guides are available for 60 languages. Households that have not participated in the Census may be contacted at their home by a Census Bureau representative.
Any information you share with the Census Bureau is strictly confidential. By law
the Census Bureau cannot share individual responses with anyone, including any court
of law, the Federal Bureau of Investigation, the Central Intelligence Agency, the Internal
Revenue Service, state or federal welfare departments, or governments and programs.
The Census Bureau only uses individual responses to produce summary statistics,
which further protects individuals from being identified inadvertently.
What is the Census?
The Decennial Census (Census) is a full count of United States residents, which
includes all people who live in the United States. The Census is conducted by the U.S.
Census Bureau every ten years, and is mandated under Article 1, Section 2 of the US
Constitution. After collecting data from households, the Census Bureau processes those data to
protect every resident's privacy. It then aggregates the data, and disseminates the
results to the President, the states, and the American people. Census data are most
prominently used to:
Apportion seats in the U.S. House of Representatives
Distribute over $675 billion federal dollars to state and local governments
Redistrict at the federal, state, and local levels
Provide statistical support for grant applications
Help communities, like the City of Greencastle, plan for future needs