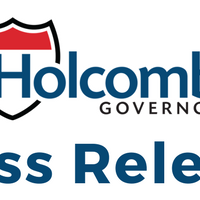 Governor Holcomb extends Stay-At-Home order
The revised Stay-At-Home order requires all individuals currently living in Indiana to stay at home except as allowed in the executive order until May 1, 2020.
As long as sufficient personal protective equipment (PPE), staff and other supplies are available for the COVID-19 response, hospitals should conduct medically necessary procedures.

Any restrictions involving medical procedures will be evaluated every seven days for appropriate and timely modifications that could be implemented.

Permitted outdoor activity as described in the executive order includes yard work, gardening, planting and landscaping at residential, commercial and industrial properties and farms.

Nurseries and garden centers may be open for business under circumstances listed in the executive order.

Pet grooming at a pet salon, store or mobile unit is permitted.
Click here to read the executive order.
Governor Holcomb issues order to speed up the review of unemployment insurance claim appeals
The executive order allows the Department of Workforce Development to hire additional staff to review the appeals.
It also waives paperwork requirements to help businesses apply for federal assistance under programs such as the Paycheck Protection Program (PPP) and Economic Injury Disaster Loans (EIDL), and temporarily waives requirements for documents connected to certain alcohol permits.
Business personal property tax deadlines are extended to June 15, 2020. ·
Read the executive order here.
Indiana business associations submit safety plans to Governor Holcomb
Governor Holcomb requested the plans to safely restart business in written form by close of business Wednesday.
The plans are being reviewed to determine how to safely open Indiana businesses and ensure customers and employees are in a safe environment.
Governor Holcomb encourages all businesses to think about their own plans to safely reopen when the Stay-At-Home order is lifted.
State partners with Indiana University on COVID-19 study
The Indiana State Department of Health (ISDH) will collaborate with the Indiana University Richard M. Fairbanks School of Public Health at IUPUI to measure the spread of COVID-19 throughout the state.
The scientific study will include random sample testing for SARS-CoV-2 viral infections and antibodies in Hoosiers.
Voluntary valid random sampling of Hoosiers will be conducted in four phases during the next year.
At least 20,000 Hoosiers will be tested for the study.
Read about the study here.
Lt. Gov. Crouch announces 13 COVID-19 Response recipients
Thirteen rural Hoosier communities will receive more than $1.96 million in federal grant funding, through the new COVID-19 Response Program.
In March, Governor Holcomb issued Executive Order 20-05 that allowed the Indiana Office of Community and Rural Affairs (OCRA) to redirect Community Development Block Grant funds to assist with COVID-19 needs, based on guidance from the United States Department of Housing and Urban Development (HUD).
The COVID-19 Response Program launched on April 1 and received 108 letters of need.
More projects will be announced as they continue to be evaluated and reviewed by OCRA. · A complete list of projects funded by the program is available here.
Tags: