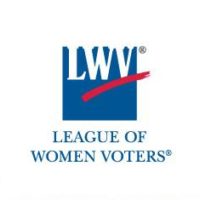 The Greencastle League of Women Voters has put together an informational flyer that has important information on the changes to the Indiana Primary Election that has been moved to June 2, 2020! All registered Indiana voters can vote from the comfort of their home by mail.  Deadline to turn in the absentee ballot is May 22 at 11:59.
Here's how:
1. Check your voter registration status and make sure you are registered to vote here: https://www.indianavoters.in.gov/
2. Request your absentee ballot application by filling out a form (https://www.in.gov/sos/elections/2402.htm) and mailing to in to your county clerk (Putnam County Voter registration office, P.O. Box 546, Greencastle, IN 46135) or emailing it to voterregistration.putnam@airhop.com
3. Or call your Voter Registration Office (Putnam County Office: 765-655-1538) to request an absentee ballot.
EVERYONE CAN STAY SAFE AND STILL PARTICIPATE IN OUR UPCOMING ELECTION!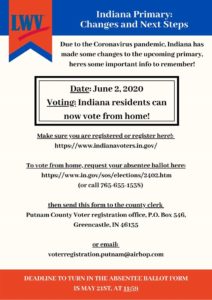 Tags: