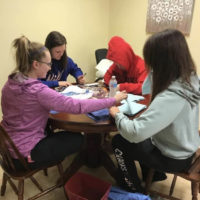 '
(Greencastle, Ind.) The 'Masked Mommas,' more than 20 Putnam County women, have filled nearly 2,000 orders for N95 style and protective masks since they started making them in their basements 15 days ago, and they are still accepting requests.
To date, they have provided masks for the entire Putnam County Hospital staff, as well as dietitians and pharmacists at the hospital. They have supplied masks for essential workers at Kroger in Greencastle and Mooresville, Wendys, all Putnam County nursing home facilities and in-home healthcare, gas stations, Cloverdale Police, Greencastle Police, Indiana State Police motorcycle troopers, Fillmore Volunteer Fire Department, the Putnam County Courthouse staff, Putnam County Comprehensive Services, the Putnam County food pantry, and Family Support Services. Additional mask recipients both in and outside of Putnam County are at the end of this release.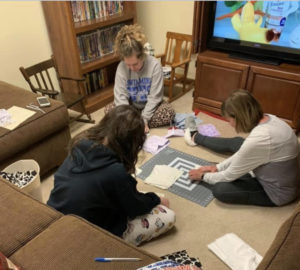 The genesis for the Masked Mommas began when Amy Clark learned her two daughters, who work in healthcare, were on the frontlines fighting COVID-19 without protection. Amy, along with Yolanda Goodpaster, Rashell Harcourt and Sandi Clark, got to work in their basements.
"I originally posted on Facebook that we were making masks to support my daughters, and we were literally inundated with requests," said Amy Clark, Greencastle resident. "As we started running out of supplies, we turned to Facebook, and our growing network began providing us with more materials, and even more of our friends joined us in making masks."
The Masked Mommas teamed up with Sew In Serve in central Indiana to meet a critical need for CDC-compliant masks. They restructured their system to increase productivity and reduce duplication of mask production. The Masked Mommas in return sent them requests that were out of county to free up more Putnam County requests and established Putnam County Mask Mommas – Sew & Serve on Facebook.
The Mommas' assembly line, which is done remotely, involves cutting, assembling, laundering, sewing and replenishing supplies. The Mommas have perfected their mask pattern, and include a protective layer cotton/flannel/hepa furnace filters to ensure the mask's effectiveness. They also deliver completed orders to individuals who can't leave work.
"The Masked Mommas are a terrific example of how Putnam County residents have mobilized to support healthcare professionals and essential workers during this challenging time," said Dennis Weatherford, CEO, Putnam County Hospital. "Our team is so grateful to them for putting us first as we all work together to fight this virus."
In addition to the founders, the Masked Mommas include Rebecca Arnold, Jana Boggess, Lindsey Fenwick, Joanna Goldman, Meghan Miller, Mary  Birt, Erin Miller, Katrina Henderson, Trudy Goodpaster, Teena Bryant, Suzanne Travelstead, Jill Albers, Sentra Sheldon, Valerie Weddle, Gail Patrick, Courtney Williams, Jinni Altman, Jenny Clark, Allyson TeGrotenhuis, Natalie Pritchard, Kim Shinn, Narda Cotton, Peg Johnson, Gail Smith, Jenny Knoll,  and Beverly Ross.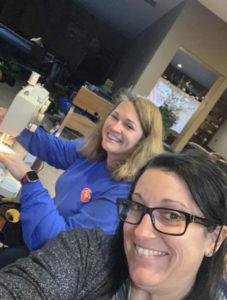 The Mommas are on Facebook at https://www.facebook.com/Putnam-County-Mask-Mommas-Sew-Serve-100134314992282/, and are now sending masks to adjacent counties, as well as to Alaska.

"While three of the four original organizers have full-time jobs, and we are juggling virtual meetings, our kids and our daily lives, we are thankful for our ability to help," Clark continued. "Every time we think we cannot do it any longer, we receive more requests, a positive story about our work, or donations to support this effort. We truly know we are doing what we are supposed to be to serve our community."

Additional mask recipients include employees at:  PMH Ambulance, Dave's Heating and Cooling, Edwards Royal Comfort Heating & Air, Amazon workers, IU West, Hendricks Regional Hospital, IU Bloomington, healthcare professionals in Florida, Premier Hospice in Brownsburg, Cataract Fire Department, Opportunity Housing, Indianapolis Ambulance, Putnamville Prison, American Health Network, Rural Postal Carriers, Eskenazi Health, Tractor Supply in Greencastle and Danville, Westside Physicians, First Financial Bank, Proactive MD, Methodist Hospital, Bassett Air, Riverview Hospital in Alaska, Kentucky State Police, Hendricks Dispatching, various nursing students, and personal requests from individual families.

To learn more about the Putnam County Mask Mommas – Sew & Serve, visit https://www.facebook.com/Putnam-County-Mask-Mommas-Sew-Serve-100134314992282/.

Tags: