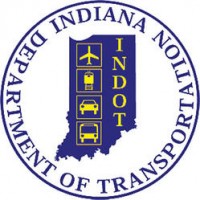 Proposed improvement to construct new cable barrier along Muncie Bypass from SR 3 to SR 32 in Delaware County; DES#1801461
Project documents associated with the project are available to view on-line https://www.in.gov/indot/4036.htm. A presentation will be posted to this location Wednesday (3/25) afternoon.
The purpose of the project is to enhance safety along U.S. 35 / Muncie Bypass and to reduce the frequency of vehicular collisions at the Meeker Avenue Intersection.
The project proposes to install a new high tension cable barrier system in the grassed median to prevent median crossings along the entire portion of U.S. 35 from S.R. 3 to S.R. 32. The Meeker Avenue intersection is proposed to be converted to a right-in, right-out intersection and the asphalt crossover at this intersection will be removed. The left turn lanes along U.S. 35 will be removed and the cable barrier will be extended through the former crossover location to prevent left turns from U.S. 35 to Meeker Avenue. A cable barrier will extend through all existing gravel covered crossovers preventing the future use of them as turnaround or U-turn locations.
In addition, one new asphalt covered crossover will be built approximately 2 miles north of S.R. 3 for emergency vehicles. Deceleration and taper lanes (200 feet long) will be constructed on the inside shoulders on either side of the new crossover. Underdrains will need to be placed under the deceleration/taper lanes to divert ground water away from the new pavement. A 15 inch small culvert will be placed under the crossover to perpetuate drainage through the area. All work will occur within existing INDOT right-of-way (ROW).
The Maintenance of Traffic (MOT) plan for the project will require short term lane and shoulder closures. INDOT will coordinate with emergency services, local school corporation officials and project stakeholders to ensure potential disruptions and impacts are minimized as much as possible. The proposed project is anticipated to begin construction later this year (2020).
Federal and state funds are proposed to be used for construction of this project. INDOT and the Federal Highway Administration have agreed that this project poses minimal impact to natural environment. A Categorical Exclusion (CE) environmental document has been prepared for the project. The environmental documentation and preliminary design information are available to view at the following locations:
On-line via project webpage at https://www.in.gov/indot/4036.htm
Persons with limited internet access and/or those interested in receiving a hardcopy version of the presentation materials are encouraged to contact Rickie Clark, INDOT Office of Public Involvement (317) 232-6601 rclark@indot.in.gov.

INDOT is soliciting comments for proposed new barrier cable construction along the Muncie Bypass and encourages the community to participate. The official public comment period began on March 11, 2020 and will end on April 13, 2020. INDOT respectfully requests comments be submitted or postmarked by that time. Comments regarding the proposed new cable barrier project may be sent to Rickie Clark, INDOT Office of Public Involvement, 100 North Senate Avenue, Room N642, Indianapolis, IN 46204 or via email to rclark@indot.in.gov.

Tags: