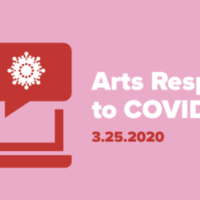 March 25, 2020
3:00 – 4:00 p.m. eastern time
Video conference
The COVID-19 public health crisis is impacting how we work in significant ways. We know navigating the changes and restrictions is and will continue to be a challenge. As the state's proponent for the arts and their impact in our communities, we want to bring the arts community together to rally and support each other in a statewide conference call to share information, resources and best practices out there right now.
During this call, you will hear from arts providers who are actively responding to the public health crisis in their local communities. We encourage all participants to share the challenges they face and stories of local collaborations.
Topics:
Tracking financial impacts on your organization

How to go virtual with your services
Considering your options: emergency loans and grants
Remember, we're all in this together.
Click here to RSVP for the conference call to receive the access link.
Don't forget to share the impact of COVID-19
This Americans for the Arts survey will capture a broad spectrum of data and stories that will demonstrate how the arts and culture workers triumphed and survived this crisis as well as the effect of the outbreak on operations through cancelled events, lost wages, and additional expenses. Click here to take the survey.
Remember, IAC staff is available to help in any way we can, so if you're thinking about reaching out with questions, please do.

Sincerely,

Bridget Eckert
Director of Marketing and Communications
Indiana Arts Commission

(317) 232-1273
Tags: