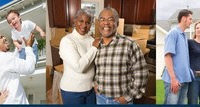 Notice is hereby given that a public hearing will be held to discuss the draft 2020-2024 Five-year Consolidated Plan and 2020 Action Plan on April 9, 2020 between 3 p.m. and 4 p.m. EST.
To comply with Governor Holcomb's directive on public meetings associated with COVID-19, this hearing will be held in an online, webinar format. Attendees will be able to make comments during the hearing.*
Access the public hearing here: https://indianaenhanced.webex.com/indianaenhanced/onstage/g.php?MTID=e5ec1f23096ffc30d8f763654d3e7bf43.
Event number (access code): 645 005 659
Event Password: ConPlan
Audio Conference: +1-415-655-0001 US Toll; 1-844-621-3956 United States Toll Free
This hearing concerns programs that are funded through the U.S. Department of Housing & Urban Development under Title I of the Housing & Community Development Act of 1974 as amended. Annually, the state receives about $35 million for housing and community development funds. The Consolidated Plan provides guidance for allocation of those funds among housing and community development activities (e.g., economic development initiatives, infrastructure improvements, and homeownership and rental programs).
The Office of Community & Rural Affairs has the 2020 Consolidated Plan available for public inspection prior to its submission. Members of the public are invited to review the 2020 Consolidated Plan during the hours of 8:30 a.m. to 5:00 p.m., February 18, 2020 through April 10, 2020, at the Indiana Office of Community & Rural Affairs, One North Capitol, Suite 600, Indianapolis, Indiana 46204. The 2020 Consolidated Plan will also be available online at: http://www.in.gov/ocra/2369.htm.
Comments are encouraged to be submitted in writing via email to info@ocra.in.gov.
Additional information may also be obtained on http://www.in.gov/ocra/2369.htm.
*To effectively facilitate online commenting, individuals that wish to comment must use the "raise hand" function. (For a short demo of the WebEx raise hand function, watch this video.) Once an individual has raised his/her hand, the individual will be called on by the facilitator in order, unmuted and asked to comment. Individuals will only be allowed to comment once and have a maximum of three minutes to speak.
Tags: