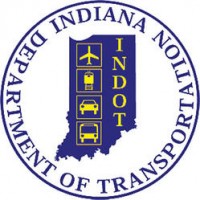 MORGAN COUNTY, Ind.— Intermittent closures are scheduled Thursday night (March 12) on S.R. 67 for bridge beam setting at the Little White Lick Creek bridges in Mooresville. Traffic will be stopped in 20-minute intervals beginning at 10 p.m. Southbound beams will be set first, followed by northbound.
S.R. 67 will be closed one direction at a time. Beam setting operations are expected to be complete by 2 a.m. Friday morning (March 13). Drivers are encouraged to seek an alternate route to avoid delays if possible. Indiana State Police will be on site to assist with the closures.
INDOT contractor Force Construction began the  $4.1 million superstructure replacement project in November. The project also includes concrete patching and joint repair, and is expected to be complete this fall.
Motorists should slow down, use extra caution and drive distraction-free through all work zones. Due to the project's close proximity to a railroad crossing, motorists should also avoid stopping on the tracks. All work is weather dependent.
The first round of bridge beam setting on S.R. 67 over Little White Lick Creek took place in late January.

Stay Informed
Motorists in Southeast Indiana can monitor road closures, road conditions, and traffic alerts any time via:

Tags: