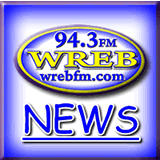 Remarkable. Unforgettable. Powerful. Inspiring. Humble. Walked boldly in faith. Loved God wholeheartedly. Trusted God in all circumstances. Showed us how to never, ever give up. A true champion.
Imagine that you are a parent and that these are the words that the world uses to describe your son. Your child, his legacy. Tony Trent is this parent. He's that dad of the Purdue super fan, Tyler Trent, who lost his earthly battle with osteosarcoma in January of 2019.
During this special event, Tony bravely and honestly shares about Tyler's courageous battle with cancer, Tyler's book the Upset, and how the faith of the entire Trent family carried them through this season.
You can join them for this free and inspiring event on Saturday, February 29, 2020 at 6:30 pm at Parker Auditorium, Greencastle High School located at 910 E Washington St., Greencastle, IN. There is limited seating—claim your free ticket at https://tacklingtoughtimes.eventbright.com.
This free and faith-filled event has been brought to you by the Greencastle Wyldlife Club in collaboration with the Greencastle Middle School FCA, Greencastle High School FCA, and the Purdue Club of Putnam County. Questions? Contact Shannon Hammond at shannonedenhammond@gmail.com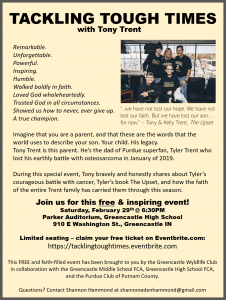 Tags: