The Mary Allison Children's Trust Board of Directors are excited to welcome Anthony Wireman to the Board at the recent January Board Meeting.
Anthony Wireman grew up in rural Clinton County Indiana. A graduate from Rossville High School. He then enrolled in Mortuary School where he graduated in 2008. Anthony and his wife Kandace purchased Servies & Morgan Funeral Homes and Machledt & Servies Funeral Home in August of 2014. They have three children, Marshall, Jack and Liberty. Anthony feels" honored to be a part of Putnam County where he can serve and provide a service during a family's most difficult time. He also has been humbled to be a part of the Mary Allison Children's Trust and looks forward to many years of serving the community through this wonderful Trust and Board."
For more information the Mary Allison Children's Trust you may contact any Board Member, call 765-655-2333 or email gscott@wabashcapital.com.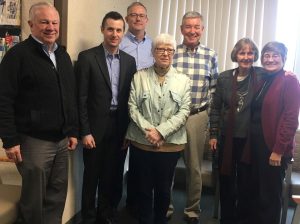 Tags: