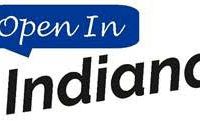 From: "Ryan Henry" <ryan@henrymg.com>
Sent: Thursday, December 26, 2019 8:09 PM
To: "wreb@wrebfm.com" <wreb@wrebfm.com>
Subject: Press Release – For Immediate Release
Press Release – For Immediate Release
Open Indiana Announces New Website and Magazine to Promote Local People, Places & Events
Indianapolis, Indiana – December 27, 2019 – After over a year of planning and development, Open In Indiana is proud to announce the launch of a new website and a quarterly publication, The Open In Indiana Magazine.
"Supporting small business means you're helping those you care about raise a family, create jobs and grow Indiana's diverse local economy," said Ryan Henry, Idea Guy for Open In Indiana. "We wanted to find a way to help promote those who've chosen entrepreneurship as a career path."
Founded in 2017, Open In Indiana started as an online community to promote locally owned businesses in Central Indiana.
Open In Indiana's mission is to promote the people, places and events that make Indiana a great place to live, work and visit.
Revised in September 2019, our new website is designed to help visitors find local businesses and events in their community.
The Open In Indiana Magazine is a free publication featuring local people, places and events throughout the state of Indiana.
Supporting Local Entrepreneurs, Businesses and Organizations
Open In Indiana hosts small business networking events and workshops where we feature speakers and topics relevant to how entrepreneurs create, market and grow their own business.
"When I started my first business in 2010, I was overwhelmed by the wide range of different skills that were required to market and grow a successful business. There had to be a better way to share all of the resources that entrepreneurs need for their business," Henry said. "It takes a wide range of skills to start and grow a business. That's why we share these skills and expertise for you to use for your business."
Open In Indiana Is Now Available Statewide
Our recently updated website now includes the ability for entrepreneurs and business owners anywhere in the state to join. The new Open In Indiana website is designed to make it easy to connect with fellow entrepreneurs, find local businesses and events in your community. Open In Indiana members can create their member profile, add their business listing and publish events on our event calendar.
Introducing the Open In Indiana Magazine, A New Quarterly Publication
The Open In Indiana Magazine extends our content distribution beyond digital to a growing consumer audience. The Open In Indiana Magazine officially debuted with 10,000 copies for distribution to our members at Open In Indiana Events, at local businesses beginning in Central Indiana with expansion planned for future issues. The magazine is also available in digital format on our website.
Each issue, The Open In Indiana Magazine features a main story about an event or timely topic, artist profile, upcoming events and a business tip column targeted to small business owners.
About Open In Indiana
Open In Indiana started in 2017 as our way to help small business owners learn how to build their own business into a successful local brand. We combined traditional face-to-face networking events and workshops with an online community for members to share their business and events.
Our Values
Honesty & Integrity: We're committed to conducting ourselves in a respectful and professional manner with all members of our community.
Innovation: We educate entrepreneurs on how to use online resources to better compete in a modern economy.
Supporting Local Entrepreneurs: We provide a welcoming place for entrepreneurs in the community to connect and learn.
Serving Our Community: We support local organizations who serve those in need in our community.
Important Open In Indiana Links & Contact Information
For More Information (Press Only)
Contact for Questions or Interviews: Ryan Henry, Idea Guy for Open In Indiana; 317-559-1059; ryan@openinindiana.com
Open In Indiana Logos, Pictures and Videos:
o   Open In Indiana Logo Transparent Background PNG: https://openinindiana.com/wp-content/uploads/2019/11/logo_square_nobg_bluebubble_whitefill_whitetext_blackoutline_cropped.png

o   Open In Indiana Logo White Background Square JPEG: https://openinindiana.com/wp-content/uploads/2019/12/logo_square_nobg_bluebubble_blacktext.jpeg

o   Ryan Henry Headshot Transparent Background: https://openinindiana.com/wp-content/uploads/2019/10/Ryan-Headshot-2019-07-31-e1570571370828.png

o   Video footage of The Open In Indiana magazine being produced (0:15 mp4 file): https://openinindiana.com/wp-content/uploads/2019/12/Making-The-Open-In-Indiana-Magazine-for-Header.mp4

o   Longer video of magazine production: https://youtu.be/fbDcadOC8DM

Tags: