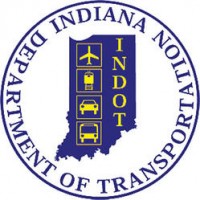 The Indiana Department of Transportation Crawfordsville District has our yellow salt trucks deployed in the Terre Haute area and will have them throughout west central Indiana this afternoon.  INDOT reminds motorists to be cautious while traveling during this upcoming weather system moving into our area.
The forecast is calling for 2-6" of snow to begin late this afternoon and continue through Tuesday morning. The National Weather Service says when the snow moves through this evening, there could be bursts of locally heavy snow which would greatly reduce visibility and produce some quick accumulation.
INDOT will continue with a full crew reporting in at midnight to plow and treat the interstates, U.S. highways and state routes. Each route takes 2-3 hours to complete with salt assisting in melting between passes.
Driver tips:
Reduce speed: Allow extra time to reach your destination, be patient as snowplows travel below posted speed limits.
Safe distance: Do not tailgate and give snowplows plenty of room to work, allow plenty of time to slow down.
Pay attention: Drive distraction-free, focus on safe driving, be aware of surroundings and changing road conditions
Know before you go: Check road and traffic conditions at http://indot.carsprogram.org or the INDOT mobile app. County travel advisories can be found on the Department of Homeland Security Website at http://in.gov/dhs/traveladvisory.