On Monday, December 09, 2019 at 2:23 PM the Montgomery  County Sheriffs Office was dispatched  to a personal injury crash on State Road 32 East, just east of County Road 900 East.
Upon arrival, deputies discovered the crash involved two vehicles. One vehicle, a 1999 Dodge Grand Caravan, had been traveling west on State Road 32 when for an unknown reason crossed the center line and struck a 2018 Dodge Ram pickup being driven by Mark V. Dirksen, 19 years old, from Muncie, IN.  Dirksen had been traveling east and upon being struck by the Grand Caravan, went off the  roadway.
Dirksen was transported to St. Franciscan Hospital with non-life threatening injuries. The driver of the Grand Caravan was pronounced deceased at the scene. The identity of the other driver is not being released at this time.
Crash reconstructionist from the Montgomery County Sheriffs Office and the Indiana State Police are continuing to investigate the crash.
If you have any information regarding the crash, please contact Deputy Jeremy Minor or Deputy Richard Todd at 765-362-3740.
The Montgomery County Coroner, Crawfordsville Fire Department, Darlington Fire Department and Indiana State Police assisted at the scene.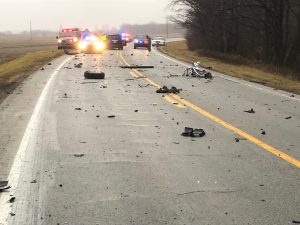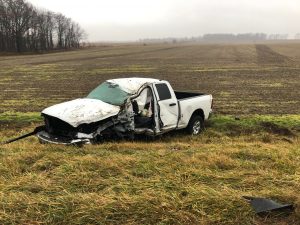 Tags: