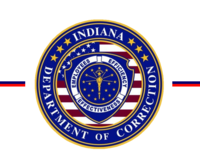 Rockville, Ind. – The Rockville Correctional Facility (RCF) and Warden Julie Stout are pleased to announce the promotion of Alexander Wallace to the rank of Correctional Sergeant.
Alex began his career with RCF in April of 2016 after serving in the United States Army in support of Operation Enduring Freedom which included a deployment to Kuwait. Alex quickly acclimated to his new surroundings quickly proving himself to be a hardworking and highly capable team member. He joined the prestigious RCF Emergency Squad (E-Squad), and completed both the Basic and Advanced E-Squad Academies en route to becoming the Alpha Squad Team Leader. He serves the facility as a Field Training Officer assisting newly assigned employees on their journeys through the On the Job Training process. Alex is a highly skilled Personal Protection Instructor assisting fellow staff in self-defense tactics. He also serves as a Transportation Officer who ensures public safety is maintained during the movement of offenders outside the facility.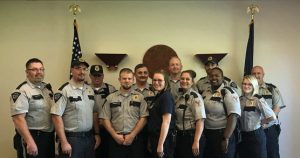 **Pictured: Sergeant Alexander Wallace (center front) pictured with Rockville Correctional Facility leadership.
In June of 2018, then Officer Wallace observed a fellow staff who had fallen to his knees and was in obvious breathing distress due to choking. He immediately sprang into action putting to use techniques learned during his new employee training, and was able to assist his coworker in expelling the lodged object, likely saving his life.

In his new role Sergeant Wallace will be the first line of supervision for dozens of correctional officers, and hundreds of offenders who will be looking to him for guidance and support.

If you would like to join Sergeant Wallace by starting an exciting career of your own, the Indiana Department of Correction is currently seeking qualified candidates to join their team. To jump-start your career in corrections visit WorkForIndiana.IN.gov and apply for a correctional officer or correctional caseworker position today!

Tags: