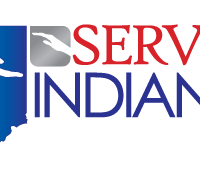 Organizations interested in applying for funding may access the applications instructions and additional information at  https://www.in.gov/serveindiana/2718.htm.
Important dates:
Notice of intent to apply: email ckellogggillenwater@serveindiana.gov by Friday, October 4, 2019
New & Re-Compete Applications due in eGrants: Monday, October 25, 2019 by 5:00 p.m. Eastern. Late applications will not be accepted.
Re-Compete Applications due in eGrants: Friday, March 13, 2020 by 5:00 p.m. Eastern. Late applications will not be accepted.
In-person & Phone Grant Application Assistance
Serve Indiana provides technical assistance to organizations around their grant application process.  Applicants are encouraged to discuss their application with Serve Indiana prior to submission. Upcoming availability is below. To reserve a spot email info@serveindiana.gov and specify whether you need to meet in-person or via phone.
Tuesday, October 8th at the Indiana Government Center South, 10 N Senate Ave., Indianapolis, IN 46204
*Available times:
* 10:00-11:00 a.m.
* 11:00-12:00 p.m.
* 1:00-2:00 p.m.
* 2:00-3:00 p.m.
* 3:00-4:00 p.m.
Wednesday, October 9th at the Indiana Government Center South, 10 N Senate Ave., Indianapolis, IN 46204
*Available times:
* 10:00-11:00 a.m.
* 11:00-12:00 p.m.
* 1:00-2:00 p.m.
* 2:00-3:00 p.m.
* 3:00-4:00 p.m.
Thursday, October 10th at the RCLC, 921 N. Eddy St., South Bend, IN 46617
*Available times:
* 10:00-11:00 a.m.
* 11:00-12:00 p.m.
* 1:00-2:00 p.m.
* 2:00-3:00 p.m.
* 3:00-4:00 p.m.
For additional information on funding opportunities and grant support, click here.
AmeriCorps Grant Application Reviewers Needed
Serve Indiana is conducting its annual application process and is seeking peer reviewers for their fall submissions.  If you are interested, please review the full information below and respond via email to info@serveindiana.gov.
Reviewer Role: Serve Indiana's policy is to have 3-5 peer reviewers per re-compete/new AmeriCorps State application.  Thus we ask each reviewer to review 1-3 full new or re-compete applications to assist in the scoring of these applications.  These grants are 10-12 pages in length for narratives with additional documents such as budgets, performance measures, and logic models.
 A sample grant is available for review here.
·A sample grant budget is available for review here.
Application Rules/Regulations: The grant applications are based on the Corporation for National and Community Service (CNCS) and Serve Indiana Notice of Funding Opportunity (NOFO) and application instructions.  If you would like to review these items further, they are available on our website.
AmeriCorps Programs Recruiting Members
AmeriCorps members serve full-time or part-time over a period of 3-12 months depending on the program model. On average, full-time members will serve 40 hours a week during the course of the program year, and part-time members will serve between 10-20 hours depending on the parameters of the program.
There are many benefits to becoming an AmeriCorps member including professional development, participation in meeting needs in the community, and developing job skills.
For a full list of programs and to learn more about if AmeriCorps is right for you, please click here.  To see available positions around the state click here.
Upcoming Volunteer Opportunities
Newfields is looking for volunteers for their upcoming seasonal experience, Harvest, October 3-6th. There will be individual and group volunteer opportunities. Newfields will host two training sessions for those that would like to hear more about volunteering this season at Newfields. Training sessions will be held on September 26th and September 28th. For additional information and to register click here.
Volunteers Needed for FFA Convention
From Oct. 30-Nov. 2, more than 65,000 high achievers and future leaders will converge in downtown Indianapolis for the 92nd National FFA Convention & Expo, an event that symbolizes the organization's gold standards of excellence: premier leadership, personal growth, and career success. FFA is a student organization that provides knowledge, experiences and understanding for all careers within the agriculture industry.
Volunteers are needed to ensure a smooth and meaningful experience for the FFA attendees who will visit our city. More than 600 volunteer shifts are available and include positions such as: general greeters and ushers at special events, serving as hosts on tour trips in and around the city, and hotel and airport greeters.  Register to volunteer.
Volunteer Opportunities with Indiana Sports Corp
Indiana Sports Corp has been a leading civic organization advancing our community through sports and has played host to more than 450 national and international sporting events. These sporting events have led to over $4 billion in direct spending in our community. We wouldn't be successful without our most valuable resources, our volunteers. The participation and hard work of Indiana residents are a large part of what attracts major events to our state. As part of the Indiana Sports Corp Volunteer Program, you get to be an integral part of world-class sporting events that you help make a success in Indiana.  Click here for more information.
Volunteer with Junior Achievement
A want versus a need. How to balance a checkbook. Don't you wish that someone had taught you those things as you were growing up? Now there is someone. YOU. All we need is your enthusiasm, life experience, and a willingness to teach children about how you took chances and shot for the stars. Junior Achievement provides the training, curriculum, and a classroom ready to meet you!

Click here for more information.

Tags: