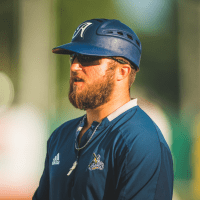 LAFAYETTE, IN – The Lafayette Aviators have announced that 2019 Hitting Coach, Bailey Montgomery, has been promoted to Field Manager for the 2020 season. Bailey replaces Brent McNeil, who accepted a full time role as Pitching Coach and Recruiting Coordinator at 
Purdue Fort Wayne
.
"We wish Brent the best of luck at Purdue Fort Wayne with Coach Schreiber. Brent was a valuable asset to the team and it was only a matter of time before he was scooped up full time by a program. However, we are excited to see what Bailey can do at the helm. Not only was Bailey a big part of our record shattering offense, but he was also a favorite of the players, fans, and staff," said Zach Chartrand, General Manager.
As Hitting Coach, Bailey helped lead the Aviators to 
team records
 in Batting Average, OPS, OBP, Runs, Hits, and RBIs, as well as several 
individual records
 set by players. Bailey is originally from Vincennes, IN and played collegiate baseball at both 
Wabash Valley College
 and 
Western Illinois University
, where he was part of several conference and regional championships, as well as a trip to the Junior College World Series. Bailey also serves as an Assistant Coach for Wabash Valley College, which is regarded as the best Junior College in the nation. The 2019 Wabash Valley Warriors went 55-4.
Of his return, Bailey stated: "I am excited to come back and lead a team that I am passionate about. I loved coming to the ballpark every day as an assistant so it made this decision a no-brainer. I am ready to get to work on building a club that I feel can bring a championship to this organization and to Lafayette. The people in Lafayette love these kids and I hope to see Alexander Field packed next summer supporting the team."
ABOUT THE LAFAYETTE AVIATORS
The Lafayette Aviators are a summer collegiate baseball team, playing in the Prospect League, a top summer collegiate baseball league operating with twelve teams from Missouri to West Virginia, with several expansion teams in the works. The Aviators are playing their 2020 season at Purdue University's Alexander Field, while construction is completed on a new stadium for the 2021 season.
Tags: