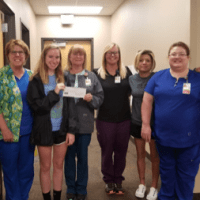 Every year over 1.7 million people are diagnosed with some form of Cancer.  Cancer effects everyone.  Seeing a loved one battle this awful disease is hard to do no matter what age.  For Haley Beaman, watching her step mother battle cancer has not been easy.  Her step mother, Tanya Beaman, has been a patient at the Putnam County Cancer Center since November.  Haley and her father have gotten to know the staff at the Cancer Center.
Haley shows swine for both the Hendricks County Fair and currently at the Indiana State Fair.  On top of her love for showing, she is a student at Caston High School.  One of the hardest parts of showing 4H is auction time.  This year Haley auctioned off her swine and decided to donate the money to the Putnam County Cancer Center.
On Monday, August 12, Haley presented a $350.00 to the Cancer Center.  Tanya Beaman said, "She has the biggest heart."  The staff of the Putnam County Cancer Center could not agree more.  Thank you Haley for your amazing heart and generosity.
Haley Beaman and her swine