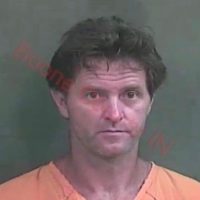 For the second time in just under three weeks, DNA evidence has assisted our agency in closing out an open investigation. A high speed pursuit back on March 20th, 2019 ended in a crash near Jamestown in southern Boone County, and the driver of the suspect vehicle was able to elude officers on foot after fleeing into thick brush under the cover of darkness.
The owner of the vehicle, 49 year old John William Schocke of Huntingburg, Indiana, was presumed to be the suspect due to visual observations by the officers, the fact that it was his vehicle, and other evidence located inside the vehicle; however he was not taken into custody immediately following the pursuit. Schocke was instead arrested four days later by Boone County Deputies on several unrelated outstanding warrants.
Schocke was interviewed regarding the pursuit, and he denied any involvement. What Schocke didn't expect, was our Crime Scene Investigator (CSI) obtaining a DNA sample from him to send to the Indiana State Police Laboratory.
During the crash, Schocke's driver's side airbag deployed, presumably striking the driver before he fled on foot. That airbag was collected after a warrant was obtained for the vehicle, and trace DNA evidence was discovered on that item by the lab. That DNA sample was determined to be a match to the DNA sample taken from Schocke at the Boone County Jail.
At this time, John William Schocke is being charged with Reckless Driving, Leaving the Scene of an Accident, and Resisting Law Enforcement.
REMINDER! ALL suspects are presumed innocent unless/until PROVEN guilty in a court of law.