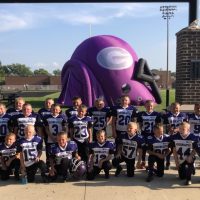 Monday, August 5, Greencastle Youth Football kicked off the 2019 season with Monday Night Football.  GYF hosted Cloverdale in a jamboree style scrimmage to get the kids ready for the upcoming season.  The evening included three halves of football (one half per age group), Cloverdale Youth League raffled a Colts autographed helmet, Putnam County Hospital raffled two Colts tickets, the boys were all introduced by age group running through the large Tiger Cub helmet onto the varsity field.  The evening was complete with an announcer giving play by plays of the game.  It is exciting to see the young kids run onto the field smiling from ear to ear.  Putnam County Hospital sponsored the event and is playing a huge part in sponsorships for GYF.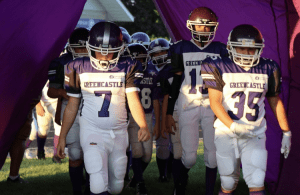 "These kids are our future.  These are the kids that will compete in high school athletics, they are future nurses, doctors, elected officials, etc.  Programs like GYF help kids develop social skills, get them off of video games, and keeps them active.  Putnam County Hospital wants to support the youth in any way we can.  Our sponsorships, not just to GYF, but to youth organizations across the county is extremely important to us," said Brooke Trissel, Marketing and Community Relations Director from Putnam County Hospital.
Over the last 18 months, Putnam County Hospital has sponsored soccer, baseball, soccer, basketball, and football teams across the county.  The funds help supply uniforms to the athletes, keep the fields game day ready, and help make it possible for our youth to get out and enjoy some healthy competition!
"On behalf of the Greencastle Youth Football League, we would like to give a huge thank you to Putnam County Hospital for their support now and in the future.  It is organizations like this that keep the league going strong," said GYF League President, Khris Tomasino.
Putnam County Hospital is currently sponsoring Putnam County Youth Soccer Association, Cloverdale Youth Football, South Putnam Youth Football, North Putnam Youth Football, along with GYF.  If your organization is interested in inquiring about a sponsorship please contact Brooke Trissel at 765-301-7528 or email btrissel@pchosp.org.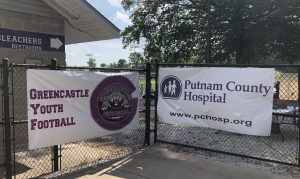 Photo Credit: Lindsay Stone

Tags: