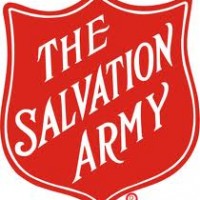 The Salvation Army Teams Up With Walmart to "Stuff the Bus"
Volunteers and community members support local children with school supply donations nationwide
Saturday, August 3, 2019
8:30 a.m. to 6:30 p.m.  at Walmart locations across Indiana and the U.S.
WHO: The Salvation Army Indiana Division officers, staff, and local volunteers; Walmart store managers
WHAT: Walmart shoppers online and in-store will receive a list of suggested supplies to help fill The Salvation Army's bus or collection bin during the "Stuff the Bus" campaign event. The goal is to provide new school supplies for classrooms and Hoosier children in need across the state. This national campaign can be followed throughout the day on social media using the hashtag #StuffTheBus.
WHY: Walmart and The Salvation Army have collaborated for more than 30 years with a common mission: to meet needs in their local communities. Supporters like Walmart help The Salvation Army serve more than 23 million Americans each year through a range of social services to help them overcome poverty and economic hardships.
The simple act of providing school supplies to students in need provides them a boost of self-confidence and sets them up for a positive and successful school year. All donations made at "Stuff the Bus" campaign events will remain in the local community and will help The Salvation Army provide back-to-school support to local children in need and supplies to restock classrooms as the school year progresses.
WHEN: Saturday, August 3, 2019; 8:30 a.m. to 6:30 p.m. (Please reach out to Samantha Hyde or your local Salvation Army contact to confirm the best time and location for media interviews.)
WHERE: Participating Indiana Walmart locations*
Anderson: 2321 Charles Street
Auburn: 505 Touring Drive
Aurora: 100 Sycamore Estates Drive
Avon: 9500 E. US 36
Boonville: 1115 American Way
Bluffton: 2100 N. Main Street
Carmel: 2001 E. 151st Street
Clarksville: 1351 Veterans Parkway
Clinton: 1795 E. State Road 163
Columbia City: 402 W. Plaza Drive
Columbus: 735 Whitfield Drive
Connersville: 4200 Western Avenue
Decatur: 1700 S. 13th Street
Evansville: 2500 N. First Avenue
Evansville: 3430 Taylor Avenue
Fishers: 8300 E. 96th Street
Fishers: 9354 Ambleside Drive
Fort Wayne: 5311 Coldwater Road
Fort Wayne: 10420 Maysville Road
Franklin: 2125 N. Morton Street
Greencastle: 1750 Indianapolis Road
Greenfield: 1965 N. State Street
Greensburg: 790 Greensburg Commons Center
Greenwood: 882 S. State Road 135
Huntington: 2800 Wal Mart Drive
Indianapolis: 3221 W. 86th Street
Indianapolis: 3805 S. Keystone Avenue
Indianapolis: 4650 S. Emerson Avenue
Indianapolis: 5835 W. 10th Street
Indianapolis: 7245 US 31 S
Indianapolis: 7325 N. Keystone Avenue
Indianapolis: 10617 E. Washington Street
Jasper: 4040 N. Newton Street
Lafayette: 4205 Commerce Drive
Linton: 2251 E. State Hwy 54
Marion: 3240 Southwestern
New Albany: 2910 Grant Line Road
New Castle: 3167 S. State Road 3
Newburgh: 8599 High Pointe Drive
Noblesville: 16865 Clover Road
North Vernon: 2410 N. State Hwy 3
Paoli: 735 N. Gospel Street
Plainfield: 2373 E. Main Street
Richmond: 2601 E. Main Street
Rochester: 2395 Main Street
Scottsburg: 1618 W. McClain Avenue
Shelbyville: 2500 Progress Parkway
Spencer: 823 W. State Hwy 46
Terre Haute: 5555 S. US 41
Wabash: 1601 N. Cass Street
Warsaw: 2501 Walton Boulevard
Washington: 1801 S. State Road 57
West Lafayette: 2801 Northwestern Avenue
Winchester: 950 E. Greenville Pike
*Additional Walmart locations may be added before August 3.
About The Salvation Army
The Salvation Army annually helps more than 23 million Americans overcome poverty, addiction and economic hardships through a range of social services. By providing food for the hungry, emergency relief for disaster survivors, rehabilitation for those suffering from drug and alcohol abuse, and clothing and shelter for people in need, The Salvation Army is doing the most good at 7,600 centers of operations around the country. In the first-ever listing of "America's Favorite Charities" by The Chronicle of Philanthropy, The Salvation Army ranked as the country's largest privately funded, direct-service nonprofit. For more information, visit SalvationArmyUSA.org. Follow us on Twitter @SAIndiana and #DoingTheMostGood