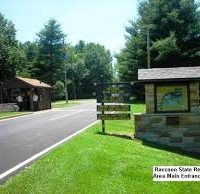 Raccoon State Recreation Area will celebrate Smokey Bear's 75th birthday by having Smokey judge its annual pedal parade Aug. 3. There will also be some other Smokey-related events that day to celebrate the occasion.
Festivities begin with a fire safety demonstration at Chapel Shelter at 4 p.m. Smokey's story will be told at 4:30 p.m. A bike safety presentation will be held at 5 p.m. People can decorate their bikes from 5:30-6:30 p.m. so Smokey can judge them.
The pedal parade begins at 7 p.m. and goes through the campground.
This program is free of charge and open to all park visitors. Standard park admission fees of $7 for Indiana vehicles and $9 for out-of-state vehicles apply.
 Raccoon State Recreation Area (on.in.gov/raccoonsra) is at 1588 S. Raccoon Parkway, Rockville, IN 47872.