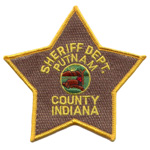 A man wanted for killing someone in New York City was pulled over in Greencastle for driving too slow earlier this week.
The Putnam County Sheriff's Office says one of their troopers stopped a man driving a Nissan passenger car 60 mph in a 70 mph zone in the left lane Tuesday. The trooper, Major Dwight Simmons, says the man was impeding the flow of traffic. That man was identified as Sheng Chen Mao, 43, of Brooklyn, New York.
Simmons says he put Mao's information into his computer and learned that Mao was wanted for stabbing and killing a woman in New York Monday night.
Simmons got Mao out of the car and took him to the Putnam County Jail.
Witnesses told NYPD they saw Mao stab a woman on 46th Street and run away. She later died from her injuries.
On Thursday, Mao waived his extradition before a Putnam County judge. A fugitive team from the New York Police Department will extradite Mao back to New York City.
network indiana