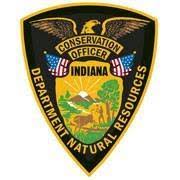 Indiana Conservation Officer Kyle Whitlow was patrolling Lake Freeman on July 13 when he observed a personal watercraft (PWC) being operated without the required registration numbers displayed.
While attempting to stop the PWC, the operator, Peter Lassale (age 46) of Chesterton, hit the PWC that Whitlow was operating. Neither Whitlow, Lassale, nor the female passenger on Lassale's PWC was injured.
Once the PWC was stopped, it is alleged that Lassale immediately became uncooperative. He eventually started his PWC and fled toward shore at a high rate of speed. Once close to shore Lassale jumped from the PWC and swam to a pier. Whitlow pursued Lassale into a residence at 711 Orchard Court in Monticello, an address later determined to be Lassale's lake house.
Conservation Officer Jarred Coffing and Carroll County Sheriff's Detective Tony Liggett, who were also on boat patrol in the area, arrived soon after. Officers maintained a perimeter around the house and maintained verbal contact with Lassale.
At one point during the brief standoff, Lassale's wife, Renata LaSalle (age 36, last name spelled differently) of Chesterton, arrived on her PWC. She began fighting with Liggett as he worked to maintain a perimeter on the house and was quickly arrested.
As officers awaited additional backup, Peter Lassale yelled to the officers that he was going to get a gun. At that point, with assistance from the White County Sheriff's Department K-9, officers forced entry into the house, and Conservation Officers took Peter Lassale into custody. One officer was injured while forcing entry into the home.
The different spelling of the last names is confirmed to be accurate.
Peter Lassale faces a misdemeanor charge of Boating While Intoxicated and felony charges of Resisting Law Enforcement with a Vehicle and Intimidation.
Renatta LaSalle faces misdemeanor charges of Boating While Intoxicated and Resisting Law Enforcement, and a felony charge of Battery on Law Enforcement. Additional charges are possible. All charges are merely accusations, and defendants are presumed innocent until and unless proved guilty. All of the initial charges will be reviewed by the White County prosecutor.
Tags: