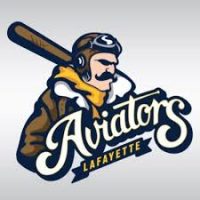 The Lafayette Aviators are proud to announce that five of their players have been selected to the Prospect League All-Star Game. Braedon Blackford (Illinois State), Chris Monroe (Illinois-Springfield), Trey Sweeney (Eastern Illinois), Justin Foy (Western Illinois) and Matt Burleton (Marian) will all participate in the game played on July 23rd. The game will take place in Normal, Illinois at The Corn Crib, the home of the Prospect League's Normal CornBelters. All five Aviators have had phenomenal seasons, with statistics near the top of the Prospect League in a variety of categories.
Braedon Blackford has had a great season for the Aviators, racking up five home runs, which is tied for first on the Aviators, and thirty-three runs batted in, which is second on the team. Blackford has also been a key member of the Aviators' infield, playing multiple positions throughout the season, including second base, shortstop, and third base.
Chris "Diesel" Monroe has been another staple in the Aviators' lineup throughout the season, providing power and consistency near the top of the Aviators' batting order. Monroe ranks first on the Aviators in runs batted in, driving in thirty-seven runs so far this season, which ranks fifth in the Prospect League. Monroe leads the Prospect League in doubles, smashing nineteen two-baggers this season. Chris caught everyone's attention in June, when he had a 20-game hitting streak, during which he hit .437 (38-for-87), with 15 doubles and a home run.
Trey Sweeney has been a perfect example of consistency this season for the Aviators. Batting .328, with one home run and seventeen runs batted in, Sweeney can be seen in a variety of positions throughout Manager Brent McNeil's lineup, making him one of the most versatile Aviators.
Pitcher Justin Foy has been a shutdown member of the Aviators bullpen, striking out twenty-four batters in just over eighteen innings of work, which has led to a phenomenal 1.96 earned run average. Foy leads the team with five wins, shutting down the opposition in his relief appearance, also adding four saves to his resume.
Matt Burleton has been an effective member of the Aviators' starting pitching rotation, leading the team with thirty-seven strikeouts, and boasting an even one and one record over his six starts this season. Burleton also has the lowest earned run average out of any starting pitcher, coming in at 3.77.
More information on the All-Star Festivities, including entire East and West rosters, Home Run Derby details, and celebrity appearances, can be found at http://www.prospectleague.com/view/prospectleague/prospect-league-news/news_523188.
You can catch the 5 All-Stars and the rest of the Aviators as they look to finish strong in the final 9 home games remaining in the history of current Loeb Stadium. For information tickets, promotions, and giveaways, visithttps://www.lafayettebaseball.com/gameschedule.
ABOUT THE LAFAYETTE AVIATORS
The Lafayette Aviators are a summer collegiate baseball team, playing at historic Loeb Stadium in Lafayette, Indiana. The Aviators are proud members of the Prospect League, a top summer collegiate baseball league operating with twelve teams from Missouri to West Virginia, with several expansion teams in the works.
Tags: