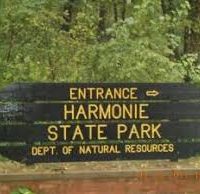 WHO: The Friends of Harmonie State Park group raised approximately $85,000 to fund the new pavilion through direct donations, gifts of goods and services for construction, and a donor brick program. DNR director Cameron Clark and other members of Indiana State Parks staff will recognize the group at the ceremony.
WHAT: The pavilion was constructed next to the park's nature center in the modern campground and is used for a variety of public programs by the park's interpretive naturalist. The pavilion is also available as a covered space for school groups who visit for programs throughout the year. A unique piece of history is also housed in the pavilion. A preserved slice of a black oak tree from the park, which fell in 2011, is now on display. The tree was identified as the largest black oak in the state in the 2010 Big Tree Register and was more than 18 feet in circumference and nearly 100 feet tall. 
LOGISTICS: Guests should plan to arrive at least 15 minutes prior to the dedication's start time for shuttling to the site because it is located inside the modern campground. Harmonie State Park (on.IN.gov/harmoniesp) is at 3451 Harmonie State Park Road, New Harmony, 47631.
ON-SITE MEDIA CONTACT: Ginger Murphy, Deputy Director, DNR Division of State Parks, 317-232-4143.