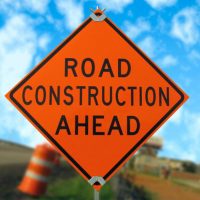 MONTGOMERY COUNTY, Ind.-The Indiana Department of Transportation announces the State Road 32 Bridge over the Walnut Fork Creek, located approximately one mile east of Crawfordsville will close on or after Monday, July 22. The work includes a bridge deck replacement and rehabilitation on this bridge.
The S.R. 32 Bridge over Walnut Fork is a single-span steel pony truss bridge built in 1940. The project will include the replacement of the bridge deck, approach slabs, and both bridge joints. New deck drains will be installed along with new railing. Bracing and truss members will be replaced in kind as needed and the entire bridge will be cleaned and painted to help preserve the bridge.
The bridge is scheduled to be completed and the road reopened by the middle of November.  The detour follows S.R. 32/S.R.47 to U.S. 136 to Nucor Road and back to S.R. 32.
This project was awarded to ICC Group, Inc. for $3.26 million.  This project also includes work on the S.R. 32 Yountsville Bridge over Sugar Creek. This rehabilitation project is scheduled to be completed and the road reopened on August 16.