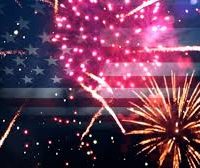 Greencastle Parks & Recreation will present a full day of activities from 7am to 10pm during Robe-Ann Park's traditional Celebrate 4 event on Thursday, July 4.
Our event will feature a variety of entertainment such as live performances by Colby
Green Band and Blue River Band, two competitive running marathons, a pet parade, a
meet and greet with your favorite heroes and Mr. and Mrs. Mouse, a pancake breakfast,
food trucks, face paintings and balloon art, Big Bounce activities for the kids, friendly
competitions for all ages, dance group exercises, free swimming at the park pool, and a
fireworks finale by Mortonville Fireworks.
Greencastle Parks & Recreation is proud to bring Celebrate 4 to Robe-Ann Park and
has been doing so since 2004. In addition to our traditional activities, we've added face
painting, balloon art and social media photo opportunities with popular American characters.  Greencastle Parks & Recreation invites you to follow their event Facebook page, which can be found at www.facebook.com/celebrate4. Through Facebook, you may learn more about their event line up and sign up for any and all of the competitions planned throughout the entire day.
Entry to Celebrate 4 is free and most activities incur no cost to participate. However, the
Rokicki Run is $20 by registring in advance at 765-653-3395 and $25 for day of registration. For the Corn Hole Tournament, registration takes place the day of Celebrate 4 and costs $20 per two person team. The pancake breakfast is $5 per person and will be held at Shelter #1 from 8am to 11am.
Greencastle Mayor William Dory encourages all of Putnam County to attend. "I am excited to see all of Putnam County come out to the park and celebrate Independence Day.  We truly have an exciting line up of activities this year. It'll be fun seeing all the families with their children outside playing in the park with painted faces and huge smiles," says the Mayor.
Proceeds from our Celebrate 4 Sponsors not only benefit the Friends of the Park Association of Putnam County, but a recreational event for all members of our community to enjoy. Sponsoring Celebrate 4 keeps the spirit of Independence Day intact and provides our community with the festivities and fireworks they've come to know and love.