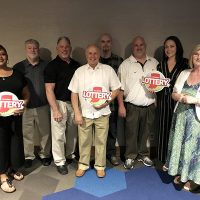 Eight Hoosier Lottery players traveled to Las Vegas last week to participate in the BILLION DOLLAR CHALLENGE™. The Hoosiers, along with 91 other participants from lotteries across the country, were playing for the chance to win up to $1 billion. Laura Clayton from Fishers won big, coming home with a $50,000 prize.
"It's a bit surreal at the moment. I came here with the mindset that we had a vacation that we didn't pay for," Clayton said after the event in Las Vegas.
Clayton advanced to the second round of the BILLION DOLLAR CHALLENGE™ to win the $50,000 prize. She plans to use the prize money to pay off student loans.
She traveled to Las Vegas with her husband, and the couple said they enjoyed relaxing by the pool.
"This is unbelievable," Clayton said after advancing to the second round. "We were just excited for the free trip."
The other seven Hoosier Lottery winners came home with the following prize amounts:
• Brian DeMario of Munster, $1,000
• Leann Davis of Trafalgar, $1,000
• Yolanda Carter-Taylor of Indianapolis, $1,000
• William Chambers of Clinton, $1,000
• Jesse Dean of Martinsville, $1,000
• Ron Jones of Indianapolis, $1,000
• Ryan Keppel of Greensburg, $1,000
The trip took place April 14-17, 2019. In addition to the cash prizes won at the event, each participant received round-trip airfare to Las Vegas, deluxe hotel accommodations for three nights, $1,000 spending money and the opportunity to play in the BILLION DOLLAR CHALLENGE™.
Hoosier Lottery's BILLION DOLLAR CHALLENGE™ 2nd Chance promotion ran from April 3, 2018-Jan. 13, 2019. To enter, players submitted a non-winning $10 GOLDEN TICKET Scratch-off into the myLOTTERY 2nd Chance promotion. The Hoosier Lottery randomly drew eight winners: four in August and four in January.
$10 GOLDEN TICKET Estimated Overall Odds are 1 in 3.63. 2nd Chance promotion odds are dependent upon the number of entries received.
BILLION DOLLAR CHALLENGE™ is administered by MDI Entertainment, LLC and Scientific Games International, Inc. Any questions regarding the BILLION DOLLAR CHALLENGE™, including questions regarding the assignment of proxies, prize payments, and tax liability or withholding for cash prizes, should be directed to MDI Entertainment, LLC at 1-800-201-0108. Participation in the BILLION DOLLAR CHALLENGE™ may be subject to other local, state, and federal laws, including the laws of the State of Nevada.