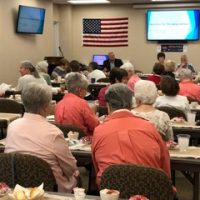 On April 22, 2019 Putnam County Hospital held their annual Guild Luncheon.  This is a time to recognize the volunteer hours that our Guild members put into the hospital.  They run the gift shop, help patients get to the appropriate offices, and help raise money through candy sales, scrub sales, book fairs and more.  PCH is extremely fortunate to have these wonderful volunteer.
2019 Service Awards included:
50 Hours
Susie Miller, Darlene Wall
 100 Hours
Sherryl Berry, Leanna Hanners, Susan Hurst, Charlotte Jones, Anita McNulty and Darlene Wall
250 Hours
May Jo Dove, Betty Lancaster, Charlene Patterson, Donna Terry
1250 Hours
Phyllis Even, Regina King
1500 Hours
Jackie Sutherlin
Kathryn Eccles Award
This award is given to a volunteer for going beyond what is expected.
Doris Knauer
The Putnam County Hospital Guild is a charitable organization dedicated to assisting Putnam County Hospital in carrying out its mission and improving the lives of its patients through service and fundraising. This organization is open to both men and women interested in this type of community service, and is currently actively seeking new members.
"The Putnam County Hospital Guild has an important role at the hospital," said Joni Perkins, Director of Nursing at Putnam County Hospital.  "The Guild has always had a special interest in how to make the hospital better. All of the funds raised through the gift shop and other fundraising events go toward equipment and/or items that improve patient care. They are an amazing, caring group."
The Guild is composed of an all-volunteer staff with the same mission in mind- to better the patient experience at Putnam County Hospital. The volunteers staff the gift shop, located just inside of the main hospital entrance, volunteer at the information desk at the Medical Office Building, and also hold several fundraising events such as scrub sales, book fairs and popcorn sales, every year. All of the funds raised at these events are invested back to Putnam County Hospital.
Serving on the Putnam County Hospital Guild not only supports our local hospital, it also is a group of caring individuals who support each other with friendship and fellowship throughout the year.
Those interested in learning more about the Guild or completing an application should visit the PCH Guild Gift Shop Monday-Friday 9am-4pm.
Pictured is Guild President Jackie Sutherlin.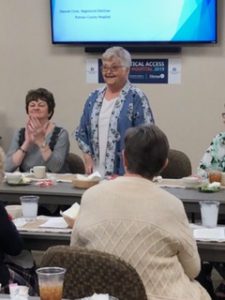 .

Tags: