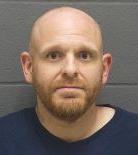 A Ladoga man was shot by police after shooting at officers serving a search warrant at his home.
Thirty-Nine Year old Matthew G. Olsen fired on a multi-jurisdictional SWAT team as officers attempted to arrest Olsen on a felony warrant.  Officers returned fire striking Olsen.  No officers were injured in the encounter, and Olsen was transported to Eskenazi Hospital in Indianapolis.
Olsen, who has a lengthy criminal history was later booked into the Montgomery County Jail on Wednesday.  Matthew G. Olsen is being charged with unlawful possession of a firearm by a serious violent felon.  He is now facing a Jury trial scheduled for June 4.